Safety work at 17 schools built by Western Building Systems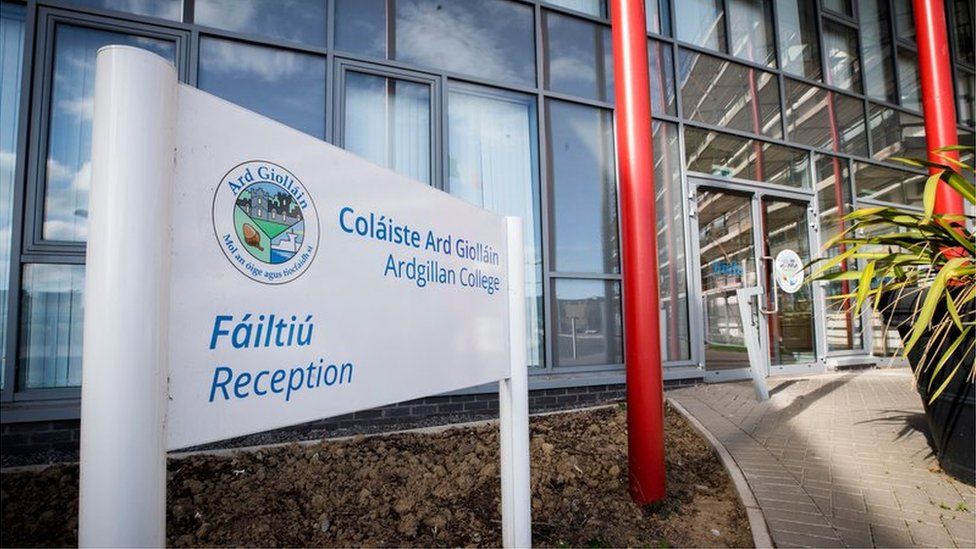 An inspection of all 42 Irish schools built by a County Tyrone firm has so far found that 17 of the schools need remedial work or protective measures.
The buildings were constructed in the Republic of Ireland by Western Building Systems (WBS), based in Coalisland.
Inspections were ordered last month, after one WBS-built school in County Dublin was shut due to the discovery of "significant structural issues".
WBS have said officials previously found its schools "free from defects".
The Irish Department of Education is to issue a further update on Thursday.
The controversy first emerged on Friday, 19 October, when engineers inspected Ardgillan Community College in Balbriggan, County Dublin, as part of a fire safety audit.
They discovered what they described as "significant structural issues" in the walls of two classrooms and part of the school was shut with immediate effect.
More than 1,200 children were affected by the closure of St Luke's National School in Mulhuddart, County Dublin and the nearby Tyrrelstown Educate Together building.
On 24 October, minister for Education and Skills, Joe McHugh, announced that structural assessments would be carried out on all school buildings constructed by WBS.
Initial inspections have now been carried out at all 42 schools and in a statement on Wednesday, the department said:
11 schools have been cleared to open in full
17 schools need some form of structural intervention, and of this group, 14 have been judged to need fencing or "protective decking" to reopen in full
13 schools remain subject to "ongoing structural assessment and analysis" and more results are expected on Thursday
1 school (Ardgillan Community College) remains partially closed.
"The advice I have received is that no other building has presented the same severity of structural issues as those identified in Phase 1 of Ardgillan Community College, which was built in 2009," said the minister.
Mr McHugh added that remedial work has already begun at five schools and should be completed within days,
However, he said "further investigations and long-term remediation measures" may be required in some other cases.
Irish broadcaster RTÉ quoted a WBS spokesperson who said Department of Education officials had previously deemed its schools "free from defects" and "built to the highest standards".
"That such a turnaround is now being reached is troubling on a wider scale," they added.
The firm told RTÉ it has been invited to meet inspectors at 13 of the 42 schools but has had "insufficient time on site to make structural evaluations".