Brexit: Uncertainty over cross-border bus services
By John Campbell
BBC News NI Economics & Business Editor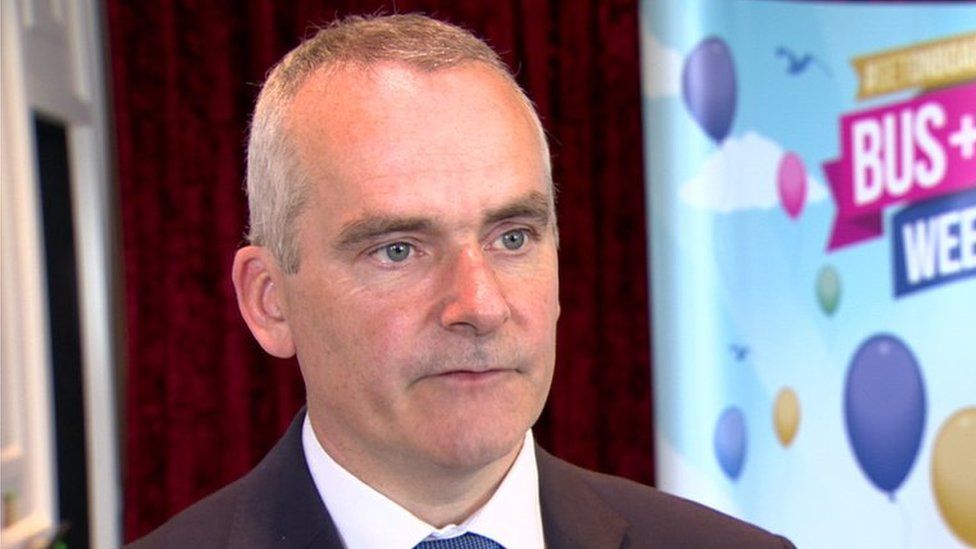 The chief executive of Translink has said it is still unclear if the company will be able to run cross-border bus services in event of a no-deal Brexit.
Chris Conway was giving evidence to a House of Lords Committee.
He said Translink runs 70 cross-border services some of which "meander" across the frontier several times in the course of a journey.
The issue concerns the Community Licence, the permit allowing drivers to make trips between EU member states.
The government has previously warned that if there is no deal, UK bus and coach operators could no longer rely on automatic recognition by the EU of UK-issued Community Licences.
That would mean Translink drivers would not be able to drive in the Republic of Ireland.
Independent member of Interbus
The UK also currently participates in the Interbus Agreement by virtue of EU membership - an arrangement which allows bus travel within the EU and some neighbouring countries.
The government is planning to re-join Interbus as an independent member in time for Brexit.
However Mr Conway said Interbus only covers "occasional services" so would not apply to Translink's regular scheduled services.
"At the moment we don't have a clear way forward on how we would actually operate those services."
He said the simplest way ahead would be for UK-issued Community Licences to have continued recognition across the EU.
'We are nowhere near prepared'
Earlier representatives from the freight industry gave stark warnings about the impact of a no-deal Brexit.
Duncan Buchanan, from the Road Haulage Association said: "We have just over 100 working days to go. We are not prepared. We are nowhere near prepared.
"Our industry is not prepared, the European industry is not prepared. No-one is ready to roll with this."
He said that without a withdrawal agreement and transition period "there will be chaos."
That was echoed by James Hookham from the Freight Transport Association.
He said that in a no-deal situation the plans being prepared by the UK Department of Transport "would probably not make a significant difference to the almost virtual collapse of trade across the channel".
The major issue identified by both men was the potential loss of the Community Licence system for lorry drivers.
In the event of no deal it could only be partially replaced with what are known as ECMT permits.
Those permits are issued on a quota basis member countries of the ECMT.
The quota for the UK would only cover about 5% of lorries which are currently engaged in haulage to the EU.