£2m facelift for Belfast's last Victorian shopping arcade
By Julian O'Neill
BBC News NI Business Correspondent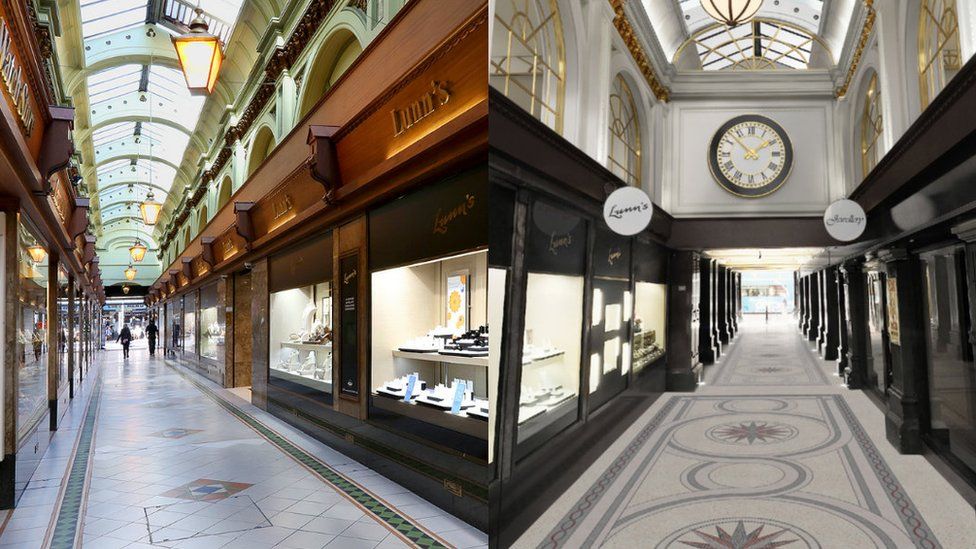 A £2m facelift is planned for Belfast's last remaining Victorian shopping arcade.
Queen's Arcade dates to 1880 and its owners are seeking planning consent to carry out restoration works.
They will include new shop fronts, a new Italian terrazzo floor and a refreshed vaulted ceiling.
Unsympathetic refurbishment carried out in the 1970s and 1980s will also be removed.
The arcade - which runs between Fountain Street and Donegall Place - is owned by Lunn's Jewellers.
Its chairman, Peter Lunn, said: "The recent destruction of the Bank Buildings has been a horrendous experience for city centre retailers, but this city and its people are resilient.
"We believe Queen's Arcade has a big role to play in bringing people back into the city centre."
The arcade will remain open during the restoration work, which will take place outside trading hours.
Depending on planning, work is due to start in January and be completed by May.