Former MP reveals death threats over Kingsmill post
By Enda McClafferty
BBC News NI Political Correspondent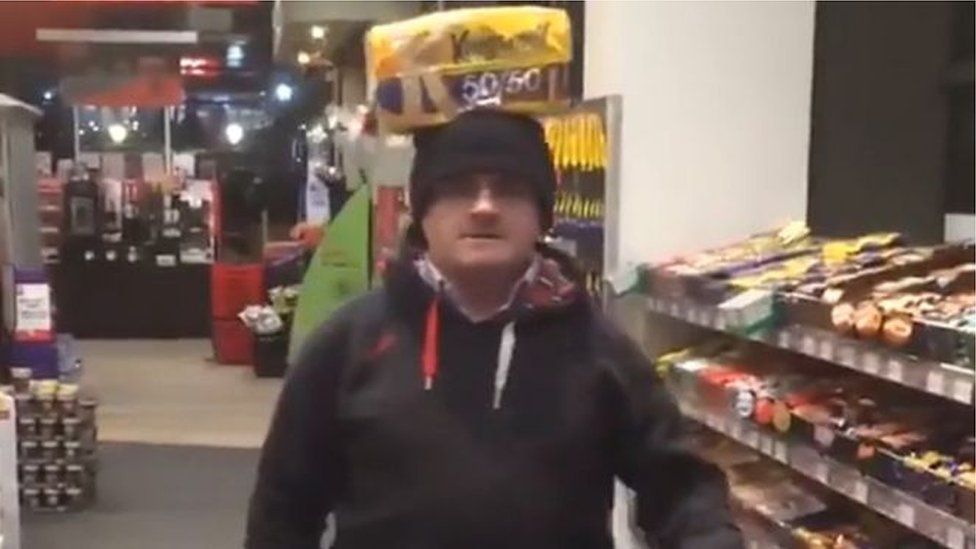 Barry McElduff has revealed he received several death threats since posting a video which saw him accused of mocking the Kingsmills massacre victims.
Speaking publicly for the first time about the controversy, the former Sinn Féin MP insisted the Twitter clip of him posing with a loaf of Kingsmill bread on his head was meant as a joke.
He described the post as a "quirk of his personality" which "backfired".
The former West Tyrone MP said he has reported all threats to police.
The clip, which led to his resignation, was posted on his Twitter account on the anniversary of the Kingsmills atrocity, when 10 Protestant workmen were shot dead by the IRA on 5 January 1976.
Mr McElduff said he had called to the shop in Omagh to collect his daughter and bought a number of items including bread and water.
He said at the time there was only one brand of bread on the shelf and he never made the connection between the Kingsmill loaf and the Kingsmills shootings, nor did he realise it was the anniversary of the atrocity and described it as a "cruel coincidence".
He added he placed the loaf on his head in a moment of humour and only made the link with the Kingsmills massacre that night when he received a message online to say the video was in "bad taste".
The County Tyrone republican added that it was never his intention to cause offence to the Kingsmill families and he doesn't have a "sectarian bone in his body".
But he fully accepts the impact his video had on the families and that is why he resigned as MP.
He said he has received support from some unionist politicians and members of the unionist community who fully believe his version of what happened.
Mr McElduff denied that he was forced to resign by the party but instead revealed that some of his colleagues advised that that would be the best course of action to take.
He has also not ruled out a return to front-line politics at some point in the future.
You can watch Enda McClafferty's interview with Barry McElduff on The View on BBC One NI on Thursday November 1 at 22:40.