Brexit deal will not jeopardise UK integrity, vows Raab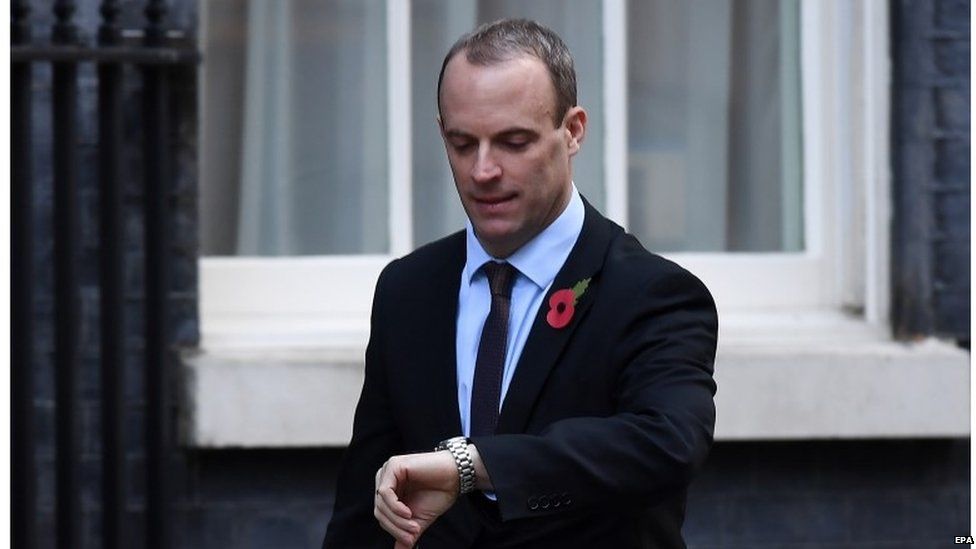 The Brexit Secretary has pledged that the government will not sign up to any deal which could threaten the UK's constitutional integrity.
Dominic Raab made the comments after a one-day visit to Northern Ireland.
He met with businesses in Warrenpoint and Larne, and he also met with politicians at Stormont.
Asked three times if the government had ruled out any new regulatory checks at the Irish Sea ports, he said: "We are engaged in a negotiation process."
He added that he was not going to engage in a running commentary but said the UK position was "we want to preserve the internal market within the United Kingdom".
DUP leader Arlene Foster said she made it clear to Mr Raab it is important that "as well as not having as customs barriers, we cannot have any regulatory barriers" between Northern Ireland and the rest of the UK.
When asked by BBC News NI if Mr Raab gave that assurance, Mrs Foster said it is "an ongoing process".
Following her meeting with Mr Raab, Sinn Féin president Mary Lou McDonald accused the government of acting "in bad faith" over Brexit and warned the border issue is not a "footnote".
She added that the government has "stepped back" from its commitment to uphold the Good Friday Agreement.
Ms McDonald added that the Sinn Féin meeting with the Brexit secretary was "direct".
Earlier, Mr Raab was accused of behaving "like a thief in the night" on his visit to Northern Ireland.
He met politicians and business leaders and visited Warrenpoint Port in County Down and Larne Harbour in County Antrim.
However, Sinn Féin South Down MP Chris Hazzard protested that the Brexit secretary had refused to meet local politicians.
Speaking outside Warrenpoint Port, Mr Hazzard said it was an example of "the cynicism and disrespect" being shown to the electorate of South Down and that Mr Raab had come in "like a thief in the night" without listening to people and their concerns about leaving the EU.
SDLP MLA Sinéad Bradley said it was "an absolute disgrace" that Mr Raab had not found time to meet local politicians.
"I suspect he did not want to hear the voice of the people of the area," she said.
Colm Shannon of Newry Chamber of Commerce described Mr Raab's visit to Warrenpoint as "a welcome opportunity for local businesses to highlight our concerns about the border and future trading relationships with the EU".
"It was a useful visit. He listened to the concerns of local businesses, particularly those that trade north-south," he said.
He said an open border and freedom to trade east and west were essential to the continued success of the port.
The backstop is an arrangement which will apply if the Irish border cannot be kept as frictionless as it is now in the context of a wider deal.
DUP speaking after Raab meet. They emphasise they don't want any new regulatory checks GB-NI. From Arlene Foster's answer I'm not 100% sure they got they assurance. Let's hear with DR says later. pic.twitter.com/ZKjhoBW0iB

— JPCampbellBiz (@JP_Biz) November 2, 2018
The EU and UK have agreed the need for a backstop, but not how it should operate.
The EU has proposed a backstop that would mean Northern Ireland staying in the EU customs union, large parts of the single market and the EU VAT system.
The UK government has rejected it as a threat to the integrity of the UK and has suggested a backstop that would see the UK as a whole remaining aligned with the EU customs union for a limited period.
A letter from Mr Raab, published earlier this week, suggested he expects a deal on the UK's exit from the EU to be agreed within three weeks.
The Brexit secretary told a committee of MPs he was happy to appear before them to give evidence "when a deal is finalised" and "currently expected 21 November to be suitable".
However, Mr Raab's own department later clarified that there was "no set date for the negotiations to conclude".
November 21 was the date offered by the committee's chairman, it added.
Meanwhile, Ireland's foreign minister has said it is up to the UK to "intensify" talks.
Simon Coveney, who met Mr Raab on Tuesday evening, said time was short and while an overall deal was possible within three weeks, it had to take shape soon.
Mr Coveney and Irish Justice Minister Charlie Flanagan hosted a meeting in Dublin on Friday for the latest session of the British-Irish Intergovernmental Conference (BIIGC).
The British government was represented by Northern Ireland Secretary Karen Bradley and Cabinet Office Minister David Lidington.