GPs warn of strain caused by new data protection rules
By Aileen Moynagh
BBC News NI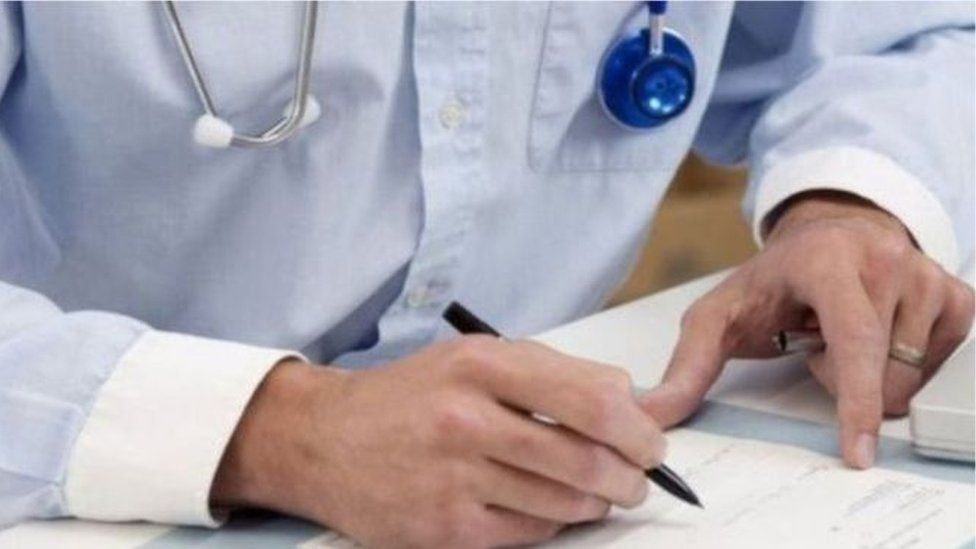 GPs have warned that they are under increased strain as a result of new data protection regulations.
However, the British Medical Association (BMA) claims the additional red tape is putting extra pressure on doctors and reducing time spent with patients.
The BMA say it has led to a significant increase in the number of requests made to GPs for patient notes.
The records must be produced within 28 days or companies face substantial fines.
Dr Alan Stout, the new chair of the BMA Northern Ireland general practitioners committee, described the trend as worrying and claimed some GPs are having to stop surgeries early to keep on top of the paperwork.
"It is about a 10-fold increase in requests for notes and the work at practice level is really two fold," he said.
"One is simply the administrative task of copying and photocopying all of the notes and having them available for whoever is requesting them.
"But on top of that, what then happens is that a doctor has to sit down and look through all of the notes and redact any sensitive or personal information.
"So that in itself is very time consuming as well," said Dr Stout.
The senior BMA representative said the new rules are having a "direct impact in terms of time available for patients".
"We're hearing that simply to fit in the time to do that, some practices are stopping surgeries early, some are taking half days without a booked surgery, simply to keep on top of the work.
"And it is an NHS resource that is paying for this work."
'Taken away from frontline care'
"Different practices are dealing with it in different ways but just the volume and the pressure of the work is forcing them to do this at the moment."
Dr Michael McKenna, a GP on the Falls Road in west Belfast, has also experienced problems.
"In my experience, I would have had one or two requests, maybe three a month, but since May 24 that has increased approximately five fold," he said.
"What that entails is a member of my staff being taken out from frontline patient care to allow them to photocopy the records and then I have to read and examine the notes and remove any third party or sensitive information from those records under the GDPR legislation.
"And that's another job of work which takes me away from frontline patient care.
"It is certainly impacting on my Saturday morning. So if I wasn't doing this work on an out-of-hours basis I could be helping the ailing out-of-hours service or spending my time there. So it has a direct impact, not only within general practice but outside of it as well," added Dr McKenna.
For data handlers, who in this case are the general practitioners, they have to ensure that the information they have is dealt with, handled and processed in the correct manner.
In the past files could just be copied and shared but because of GDPR companies are required to meet higher standards for keeping data safe.
This is where the redaction process comes into play, according to Dr David Cheyne, a doctor at Ormeau Park Surgery in south Belfast.
"With GDPR we are not allowed to release any information that refers to anyone other than the person concerned," he said.
"So basically that means any mention of family members or anybody else by name that has been in contact or involved with the patient and their name maybe ends up in the notes, we have to remove that.
"Redaction can take anything from 40 minutes for a chart up to two, three, four hours and even one of our junior partners spent five hours one Sunday going through a chart just redacting all the information because there was so much stuff there that wasn't necessarily related to the patient."
Attempts to find solutions
Representatives of the BMA have had meetings with both the Law Society and the Department of Health to look at ways to resolve the situation.
Solicitor Paul Dougan, a member of the council of the Law Society, feels there is a desire within the society to resolve any issues that exist.
However, he notes that solicitors have always made requests for medical notes and does not necessarily feel there has been an increase.
He said the manner in which they are now prepared and released is causing the problem.
"As solicitors, we have a duty to our clients and we have a duty to the court so when we are requesting GP notes and records on behalf of clients, we are doing so for very good reason," he said.
"Nobody needs GPs to be overburdened with bureaucracy and administrative requests, but equally from our perspective we still have an obligation to provide information to try and move cases on, to further our client's legitimate claims or if we are on the defence side, in defending claims and making sure that we have all the information in order to do that."
A spokesperson for the Department of Health said that they continue to discuss the pressures on GPs, and ways of addressing them, with the BMA, including the issues created by GDPR.