Sinn Féin would accept Arlene Foster as first minister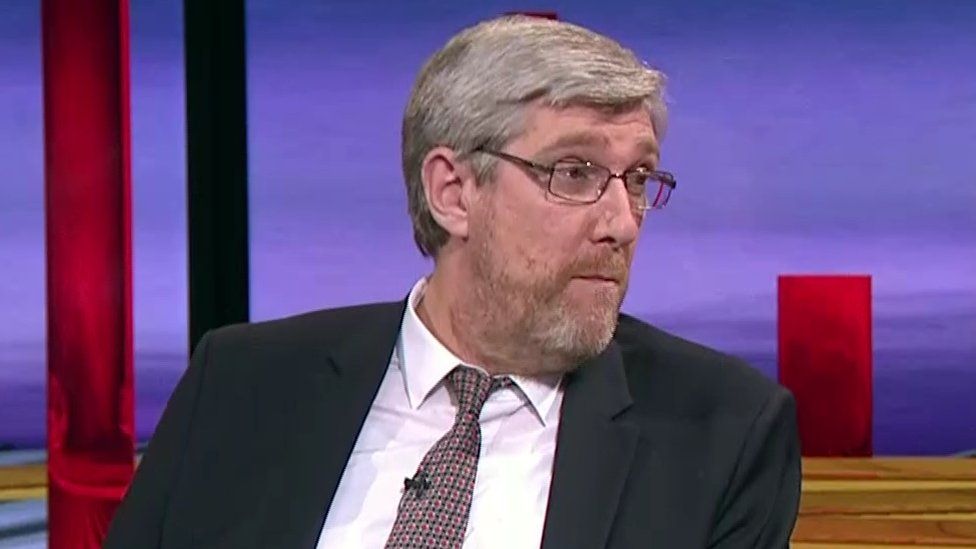 Sinn Féin would accept Arlene Foster returning as first minister if there was a deal to restore devolution, the party's MLA John O'Dowd has said.
They had previously demanded that Mrs Foster step aside while the Renewable Heat Incentive scandal is investigated.
But Mr O'Dowd said two years on from Stormont's collapse, Sinn Féin would "not object" if the DUP nominated her.
The Renewable Heat Incentive (RHI) inquiry has completed oral hearings into the flawed green energy scheme but is not expected to publish its findings until next year.
Speaking on BBC NI's The View, Mr O'Dowd agreed that his party's stance on Mrs Foster's role has changed over time.
"Two years after Arlene Foster was effectively sacked as first minister by Martin McGuinness, who the DUP choose as their leader - if and when we get to a position where we have an executive and a rights-based society - then if Arlene Foster is nominated as the joint first minister by the DUP, it's not up to Sinn Féin to object at that stage," he said.
The DUP MLA Christopher Stalford told Mr Dowd that he was "arrogant" to suggest Sinn Féin had sacked Mrs Foster.
She had held the position of first minister of Northern Ireland for just under a year when Sinn Féin pulled the plug on devolution in January 2017.
The DUP leader was questioned for days at the inquiry, and a final report is not expected before Easter 2019.
Mr O'Dowd told The View that Mrs Foster's position "was never the major sticking block".
"The sticking block is language rights, same-sex marriage rights, a rights-based society and a true commitment to power-sharing," he said.
However, Mr Stalford told Mr O'Dowd that rights were not the same thing as a Sinn Féin "wish list" and challenged him to seek the support of the assembly for the changes he was demanding.
"If you've got the numbers, why don't you rock up to Stormont and vote them through?" the DUP MLA asked.
When asked about Mrs Foster's future as DUP leader, Mr Stalford said: "There is no vacancy and she will continue to lead the party and continue to lead the unionist community.
"The fact that there are people in other parties who don't like Arlene just proves that she is doing her job right."
In June, the News Letter reported that Sinn Féin had dropped its "red line" on Mrs Foster returning as first minister while the RHI inquiry was continuing after interviewing the Sinn Féin leader.