The Disappeared: Search for remains winds down for winter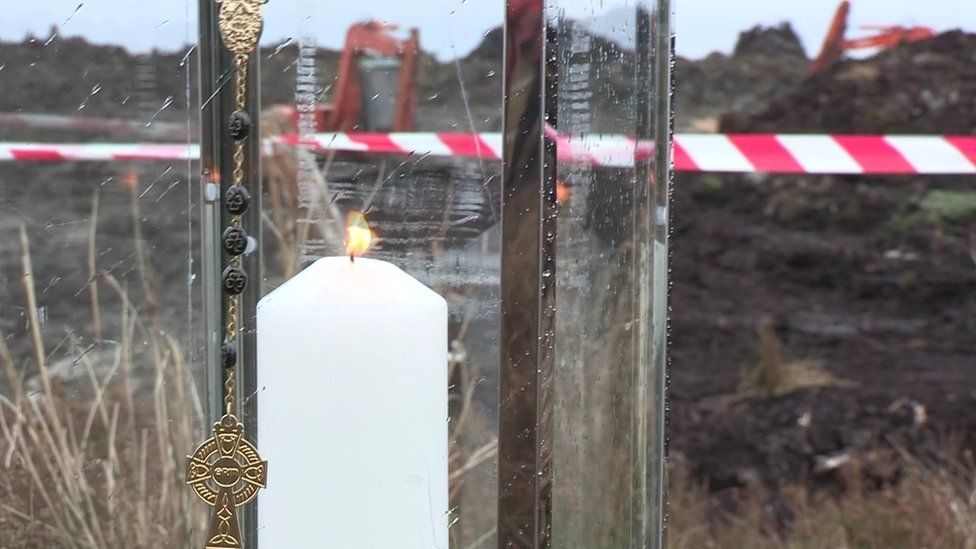 The search for the remains of Columba McVeigh in a County Monaghan bog is being wound down for the winter.
Relatives of the Disappeared travelled to the site where the search will resume in the spring.
The remains of three people, including Mr McVeigh's, are still being sought by by the Independent Commission for the Location of Victims' Remains.
On Friday, relatives of the victims gathered at Stormont for their annual silent walk.
They laid a wreath at the steps of Parliament Buildings before travelling to the search site.
Speaking at the search site, the Catholic Primate, Archbishop Eamon Martin, said the hope continued that Mr McVeigh's remains would be found, and he praised the work of those carrying out the search.
"In many ways we're shocked to come away up here into such a bleak place, such a lonely place and realise that this gruesome task continues."
Dympna Kerr, the sister of Columba McVeigh, appealed to anyone with information about his whereabouts to come forward.
"All we want to do is bring him home and put him in a grave beside my mum and dad," she said.
Mr McVeigh's brother Oliver said he remained determined to locate his brother's body:
"My resolve has got stronger even though it shouldn't be because this is the fifth dig."