Ex-Ulster Rugby president apologises for alleged sexist remarks
By Robbie Meredith
BBC News NI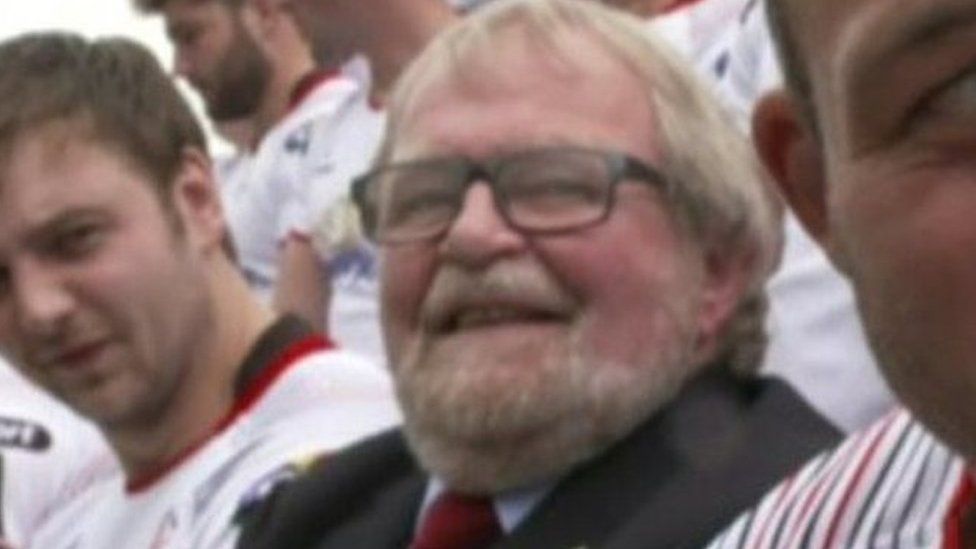 Ulster Rugby is investigating alleged inappropriate comments made by a former Ulster president at a club dinner.
In a statement to BBC News NI, Graffin Parke apologised "unreservedly" for any offence he had caused.
His apology refers to a speech he gave at Cooke Rugby Club's annual dinner on Saturday, 27 October.
BBC News NI understands that some of his remarks were regarded as sexist by some members.
Mr Parke was president of the Irish Rugby Football Union's (IRFU) Ulster branch throughout the 2017/18 season.
It is a largely ceremonial and honorary role, but it has an important status - he was included, for example, in the official Ulster team photo at the start of the 2017 season and attended Ulster games in his capacity as president.
As a past president, Mr Parke was invited to be a guest speaker at the Cooke dinner, although he is not a member of the club.
Cooke RFC, based in south Belfast, has both men's and women's teams.
However, the comments in his speech led some members of the club to complain to its committee.
The committee took the complaints seriously and held an emergency meeting on Monday to discuss the matter.
In statement to BBC News NI, Cooke RFC said the committee unanimously expressed "disappointment and disapproval of the content of an address by a guest speaker at its annual dinner".
It added: "We have received an apology from the individual concerned and will be writing to him to emphasise that the values of the IRFU equality policy must always be upheld and clearly demonstrated.
"Cooke RFC is proud to be regarded as a welcoming and inclusive sports club and works hard to maintain this long-established reputation."
However, Ulster Rugby has also launched an investigation into the matter.
"The Ulster branch of the IRFU has been made aware of alleged inappropriate comments made by one of its members at a club dinner on Saturday," it said in a statement.
"We take these allegations extremely seriously and an examination of the matter is now underway to ensure that our core values of respect, inclusivity and integrity are observed by all."
BBC News NI contacted Mr Parke, who also provided a statement, in which he apologised "unreservedly for any offence caused by a speech delivered at a recent dinner in Cooke Rugby Club".
"I fully accept that some of the content, delivered as jokes and stories, may have been considered inappropriate by some who attended," he said.
"The comments I made are not in any way a true reflection of my attitudes or beliefs."
The BBC understands that a panel will be convened by Ulster rugby to investigate the events.
That panel will have the authority to recommend any subsequent action.