Co Antrim mechanic says he has received death threats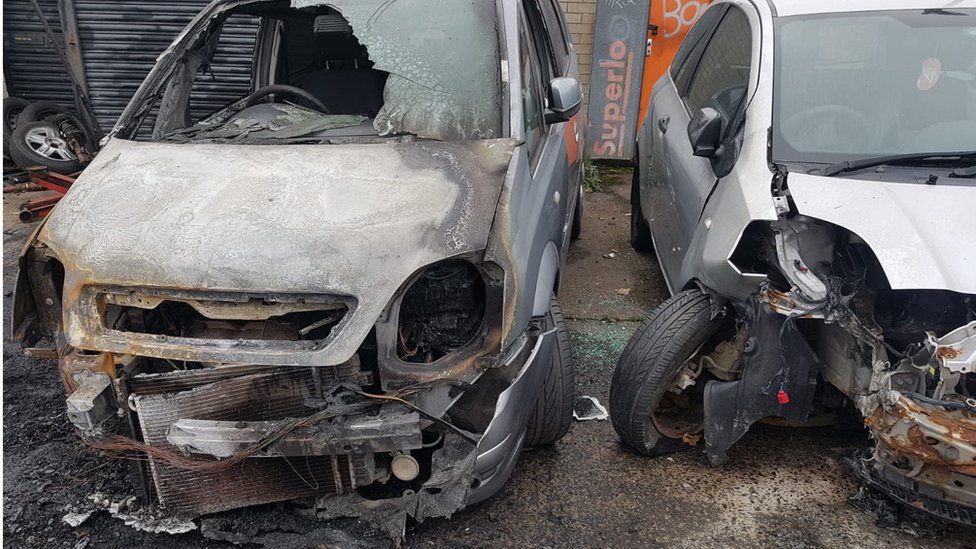 A Co Antrim car mechanic whose garage was targeted in an arson attack said he refuses to be intimidated by a loyalist gang.
Six cars were destroyed in the fire, which is next to a petrol station in Carrickfergus.
The attack happened in the early hours of Thursday morning.
The man said he has received a death threat and that paramilitaries told him and his daughters to leave the town within 48 hours.
"As far as I know, a group supposed to be from the South East Antrim UDA came down and burnt these vehicles.
"I have never been in trouble in my life. I don't bother with anything. I keep myself to myself. I am gutted. All this hard work is for nothing.
"I know who has done this and I am sure they will do it again, but I am going nowhere. I am staying."
The mechanic did not want us to use his name.
DUP MLA David Hilditch said the attack on the car repair business was the latest in a spate which have resulted in "deep community tensions".
"It is a complex situation in the community in Carrick. The recent upturn in violence has come from a criminal group who tried to do a power grab and that was met with some resistance," said Mr Hilditch.
"The people involved here in Carrickfergus have nothing to do with the mainstream paramilitary organisations. They are a law onto themselves. They don't come under their command.
"There is an initiative getting off the ground now to try and bring some of those people around the table but the police need the support of the community in order to bring those responsible to book.
Police have not yet made any arrests as part of their investigation into the incident.
The PSNI said it is still working to establish a motive for the arson attack.
"This was a reckless and dangerous act; we are lucky we are not dealing with a more serious incident, as the vehicles were close to petrol vapours," said chief inspector Stephen Humphries.