Ballynahinch burglary - woman beaten and bound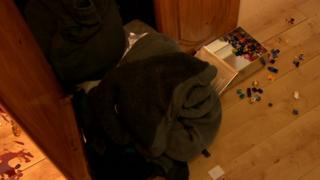 A woman was beaten with a baseball bat during an aggravated burglary in County Down, police have said.
The victim and another woman had their hands and feet bound with cable ties and both were locked in rooms in the house in Ballynahinch.
A four-year-old boy was also in the house but was uninjured.
Three masked men forced their way into the house in Dunmore Road on Friday evening, and fled after ransacking the house.
The women, who are in their 30s, and the child were taken to hospital.
One woman sustained injuries to her head and body.
Her husband said she had been left deeply shocked and in pain and added that the family, who are from Lithuania, would "never stay another night in that house".
Police said the burglary happened between 18:00 and 21:25 GMT.
"This must have been a terrifying and horrific ordeal for these women, who have been left traumatised," said Det Sgt James Johnston.