Brexit: DUP and UK government not on the same page
By John Campbell
BBC News NI Economics & Business Editor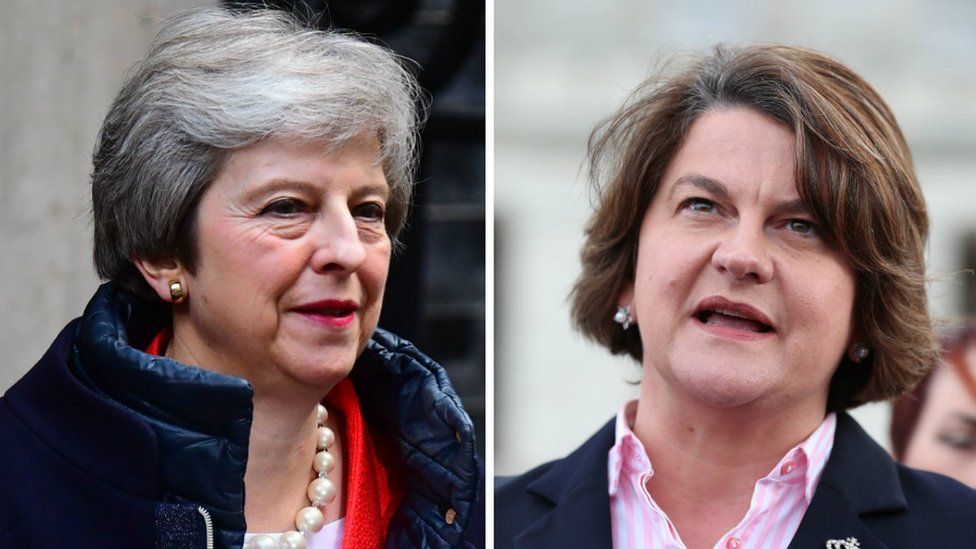 What concerns the Democratic Unionist Party (DUP) about the prime minister's letter is that it leaves open the possibility that Northern Ireland would have to continue following EU single market rules.
Theresa May has been consistent that she would not allow Northern Ireland to be in a different customs territory from the rest of the UK.
She repeated that in the letter: "I could not accept there being any circumstances or conditions... which would break up the UK customs territory."
But, she did not rule out Northern Ireland continuing to align with some single market rules if the backstop has to be activated.
She stated that the government has consistently said that "the unique circumstances of NI could require specific alignment solutions in some scenarios, provided they are consistent with the constitutional and economic integrity of the UK".
The "constitutional integrity" formulation is important here.
The government points to the fact that there are already regulatory differences between Northern Ireland and the rest of the UK when it comes to animal health and energy markets.
These arrangements are uncontroversial and have not undermined Northern Ireland's constitutional integrity.
So, that allows Downing Street to advance the argument that any new checks are acceptable.
The letter said: "It will clearly be essential that the scope of any alignment in a backstop scenario is carefully circumscribed to what is 'strictly necessary' to avoid any hard border."
This is very similar language to that used by the EU's chief negotiator Michel Barnier in a speech in October.
The government's attitude cannot come as a great surprise to the DUP.
He even visited a facility at Larne Harbour when all animals entering Northern Ireland from Great Britain are subject to regulatory checks.
But, this argument of a minimal change with no constitutional implication cuts no ice with the DUP.
The party said that current regulatory differences have been subject to democratic control, new ones imposed by the backstop would not.
In a letter to the prime minister, the party said: "We would be left in the position of having provisions in an internationally binding agreement that ensured that NI must follow rules and laws determined by other countries, with no say in their formulation."
The DUP's Brexit spokesman Sammy Wilson was blunter on Friday morning when he said: "That breaks the union."