Jeremy Corbyn meets NI 'Remain' parties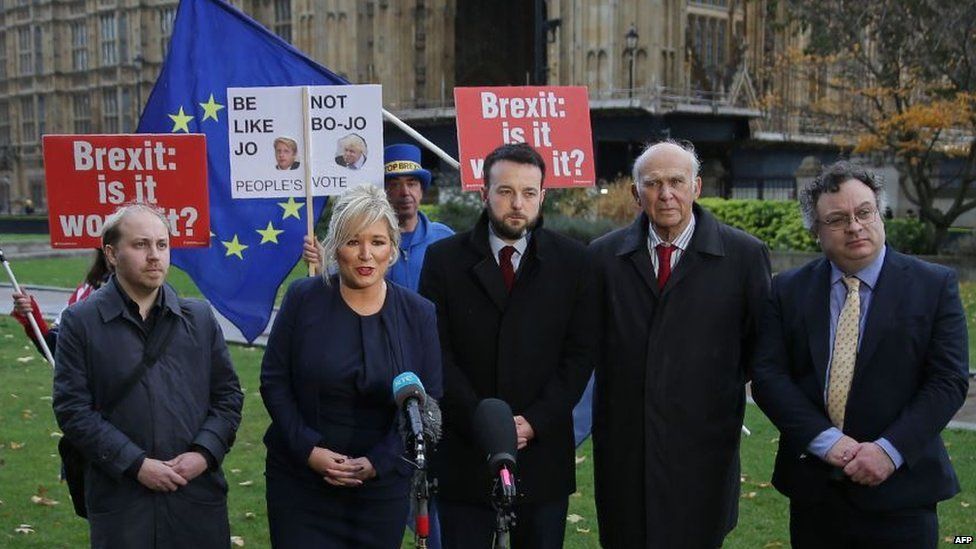 Four Stormont parties that campaigned against Brexit have met with Labour leader Jeremy Corbyn and other opposition politicians in Westminster.
Sinn Féin, the SDLP, Alliance and the Greens have previously complained that the prime minister has not agreed to meet them as a joint delegation.
Liberal Democrat leader Sir Vince Cable raised Sinn Féin's absence from parliament when he met the parties.
Sir Vince said he did so in an "amicable and businesslike way".
The parties also met the Scottish National Party and Plaid Cymru.
The delegation includes Sinn Féin vice-president Michelle O'Neill, SDLP leader Colum Eastwood, Alliance deputy leader Stephen Farry and Green Party NI leader Steven Agnew.
Ms O'Neill said the trip is a crucial show of unity designed to make clear that the Democratic Unionist Party (DUP) does not represent the majority of people in Northern Ireland who voted against Brexit.
Mr Agnew will also be pushing for a fresh referendum on any final Brexit deal.
After he met the delegation, Sir Vince argued it would "obviously be desirable" if Northern Ireland was fully represented in the House of Commons, given the likelihood of a number of tight votes on Brexit in the coming weeks.
Sinn Féin Westminster candidates stand on an abstentionist platform and its MPs do not take their seats in the Commons.
Sir Vince added that opponents of Brexit at Westminster cannot tell republicans what to do and that Sinn Féin has a historic abstentionist mandate.
Ms O'Neill acknowledged that some Westminster politicians had made representations to her party to use its seven votes in parliament in relation to Brexit.
But she said while people could analyse hypothetical situations, it was important that opponents of Brexit from Northern Ireland make their voices heard and the so-called Brexit backstop is recognised as the bottom line in the negotiations.
Sammy Wilson 'alarmed' over Brexit negotiations
By Mark Devenport, BBC News NI Political Editor
DUP MP Sammy Wilson has said what his party is learning about the Brexit negotiations is alarming not only them, but also Conservative backbenchers on both sides of the debate.
He said the prime minister - if what he is hearing is true - is stumbling into all kinds of rows with people within her own party, not just the DUP.
Asked how he assesses the chances of the UK leaving the EU without any agreement, the East Antrim MP said that if Theresa May "brings back a deal which reflects the kind of fears that people are expressing at present, then she hasn't got a chance".
Mr Wilson predicted the prime minister "will finish up with an arrangement - people call it no deal, but what it'll mean is a series of mini-deals which will keep the wheels on the wagon, but it'll not be determining what the future arrangement should be and that will be for another day".
The DUP has accused Sinn Féin of engaging in "stunt politics".
DUP deputy leader Nigel Dodds claimed that "if Sinn Fein MPs were truly passionate about Brexit, they would take their seats in the House of Commons and actually use their votes to influence the outcome".