Newspaper headlines: Titanic's new captain and spa scrapped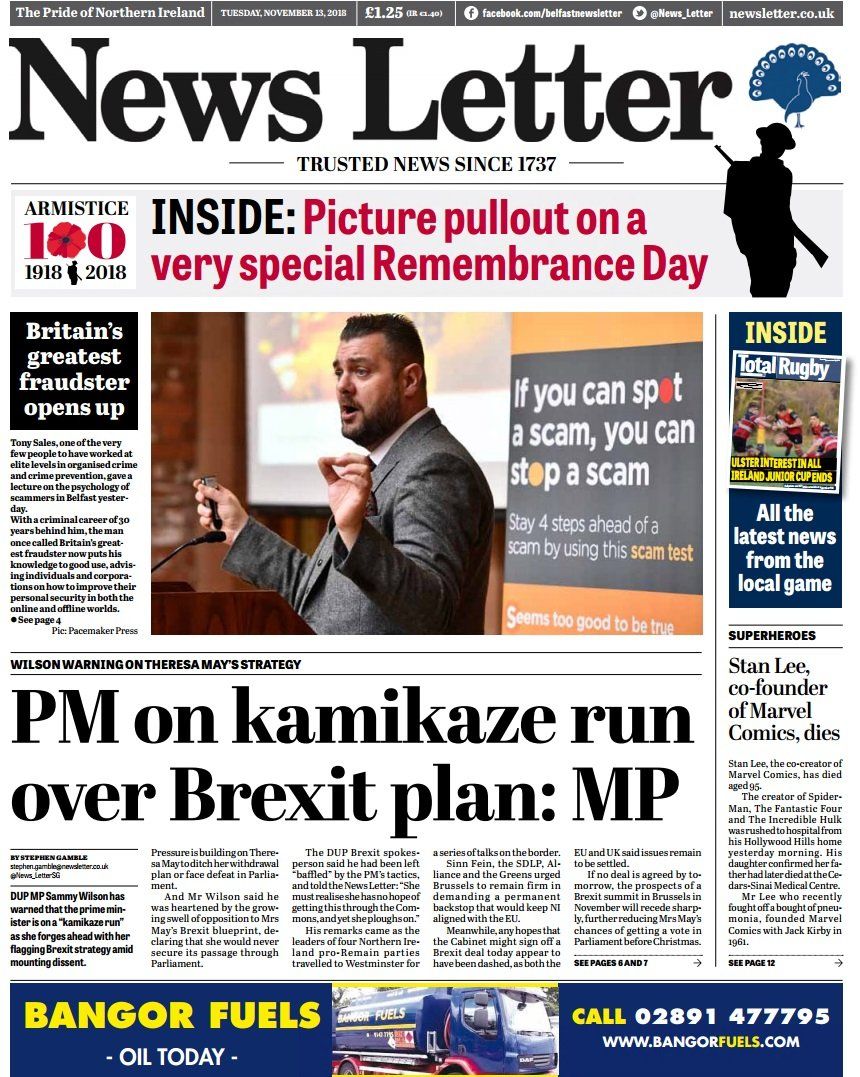 As the writer puts it, the Ballymurphy families and their supporters are "no strangers to the concourse outside Belfast courts".
Referred to by many as the Ballymurphy Massacre, nine men and a woman were killed over three days in August 1971.
The News Letter also has the story and reports the court heard that the deaths of 10 people during three days of shootings in west Belfast were the result of "illegitimate, unjustified and indiscriminate use of force by the (British) army".
The developer, North Coast Ventures, said its decision followed a community consultation process.
The company also revealed it would submit a revised application early in 2019.
The newspaper reveals that police have amassed almost 300 unanswered FOIs, more than a fifth of which were received this year.
The Freedom of Information Act 2000 provides public access to information held by public authorities.
Michael Booth, an Australian man who grew up listening to his Belfast grandfather's stories of the Titanic, was asked to play Captain Edward John Smith in a Titanic show thanks to his striking resemblance to the captain.
The show was staged in Sydney Harbour and attended by more than 1,000 "passengers".
The article states that the Titanic has been a lifelong obsession for Mr Booth, who followed in his grandfather's footsteps by collecting artefacts and later went on to build numerous models relating to the Titanic.
The Daily Mirror reports that a teenage boy has been arrested after he was accused of raping a female pupil at a school in County Down.
A PSNI spokesperson confirmed that police were carrying out inquiries following a report of an incident at a school last month.
The headteacher at the school also confirmed that police were carrying out an investigation and that "all appropriate safeguarding procedures have been properly implemented by the school".
The Belfast Telegraph leads with the findings of a cross-border poll, aired jointly on Monday night on BBC Northern Ireland' Nolan Live and RTÉ's Claire Byrne Live programmes.
The poll found that 61% per cent of people surveyed opposed a Brexit deal if it meant a hard border in Ireland.
More than 1,000 adults aged 18 or over were surveyed in Northern Ireland and another 1,000 adults in the Republic of Ireland.
Some 62% of respondents in Northern Ireland said they believed Brexit made a united Ireland more likely, while 35% of respondents in the Republic agreed.
The family of a 24-year-old man killed during Storm Ali will undertake a seven-mountain hike to raise money for the Air Ambulance Northern Ireland in his memory, reports the Belfast Telegraph.
Mr Campbell was due to marry Robyn Newberry at the Slieve Donard Hotel in Newcastle next August.