UFU says DUP should 'consider backing Brexit deal'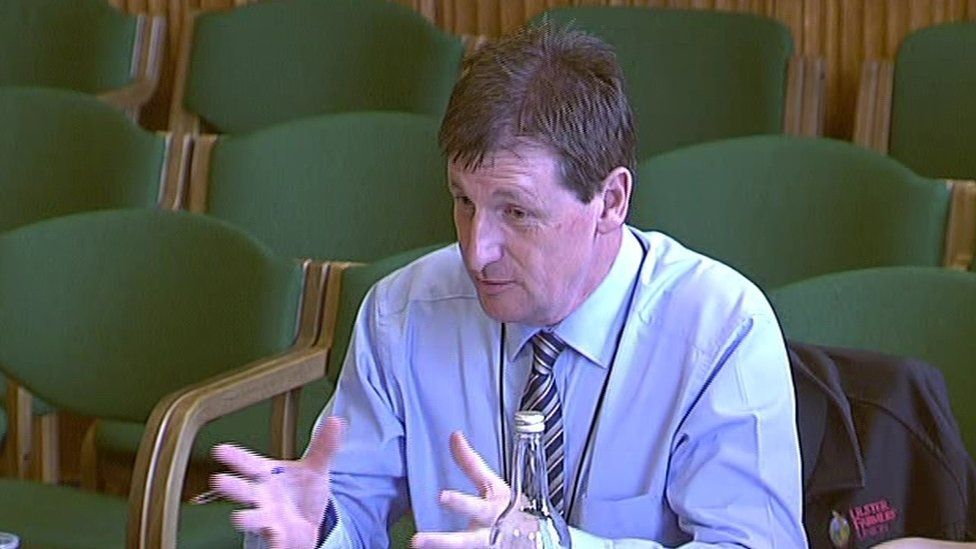 The chief executive of the Ulster Farmers Union (UFU) has said the DUP should consider supporting Prime Minister Theresa May's Brexit deal.
Wesley Aston said the UFU supports the draft deal.
The DUP said they cannot support the draft text as it could lead to the break up of the UK and would damage the economy.
That has put them at odds with most of Northern Ireland's business groups, who have cautiously welcomed the deal.
"We would support the deal going through and, against that background, we would ask the DUP to consider voting for this deal," said Mr Aston.
The draft deal between the EU and UK includes a backstop plan, which would mean Northern Ireland would have to stay aligned to some rules of the EU single market.
However, it also states that Northern Ireland products will continue to have "unfettered market access" to the rest of the UK.
Earlier, the president of the Ulster Farmers Union (UFU) said there was "no option but to support" the prime minister's Brexit deal.
Ivor Ferguson said: "It's the best deal on the table. A no deal would be disastrous for our Northern Ireland farmers."
Speaking to Irish broadcaster RTÉ, Mr Ferguson said that means existing trading relationships into the Great Britain market will be secured under the terms of the deal.
He said it satisfactorily addressed concerns that quality certification of Northern Ireland products would no longer be valid in the GB market.
Mr Ferguson said UFU members had been evenly split on EU membership but there had been a swing towards leaving just before the referendum.
Asked about the DUP opposition to the deal, he said: "We don't get involved in politics. It's not for me to comment on what political parties say or don't say."
On Thursday, DUP MP Jeffrey Donaldson suggested that businesses supporting the deal had not properly understood it.
Meanwhile, the body representing the hospitality businesses in Northern Ireland has raised concerns that "level playing field" provisions in the backstop would prevent tax breaks for its industry.
The backstop would mean the EU having a continuing role in deciding what sort of help businesses can get from government - what is known as state aid.
For aid granted by the UK that affects trade between Northern Ireland and the EU, the European Commission (EC) will continue to enforce the aid rules directly.
Hospitality Ulster fears that would prevent two tax breaks it has been campaigning for.
Colin Neill, the chief executive of Hospitality Ulster said: "Our current advice would indicate that it may present barriers to cutting VAT and abolishing Air Passenger Duty (APD) in Northern Ireland.
"As dialogue continues, we await further detail that will allow us to understand what the resulting implications on these issues are."