'Dissident bullets explode' in west Belfast house fire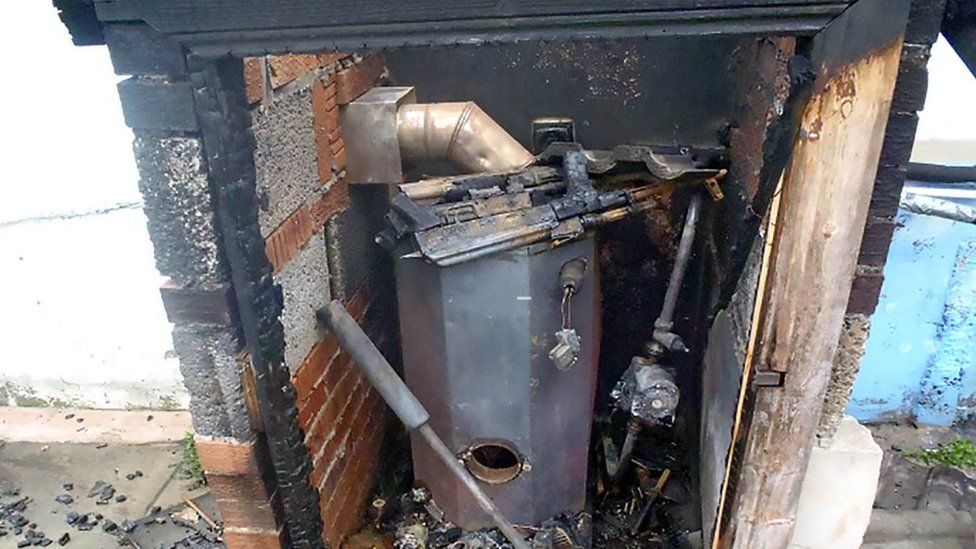 Dissident republicans left guns and live ammunition on a hot boiler, and the bullets "exploded" in the heat, endangering residents and firefighters, a senior police officer has said.
Police and firefighters were called to a house fire in Rodney Drive, west Belfast, on Wednesday and discovered a "substantial" haul of weapons.
They included two AK-47s; two sawn-off shot guns; a high-powered rifle with a silencer and three pipe bombs.
Police have blamed the "New IRA".
The head of the Police Service of Northern Ireland's Terrorism Investigation Unit, Det Supt John McVea, said detectives believe some of the weapons were used in previous attempts to murder police officers in Belfast in 2015 and 2017.
The guns and ammunition were discovered in a boiler house in the back yard of the house during the fire.
"As the fire developed, some of these rounds exploded causing significant danger to local residents and the Fire Service who were trying to put out the fire", Det Supt McVea said.
"The weapons, bombs and ammunition were stored on top of the hot boiler and it beggars belief that anyone would store items as volatile as bombs and bullets in a hot environment.
"This is simply reckless and shows a total disregard for the safety of the local residents," the office added.
"Anyone with an ounce of sense would know that live ammunition and pipe bombs mixed with heat is a recipe for carnage."
Det Supt McVea said police believe some of the weapons were used to attack their colleagues at Rosnareen in November 2015 and at a petrol station on Belfast's Crumlin Road in January 2017.
Appealing for information about the weapons, Det Supt McVea said: "The Crumlin Road shooting in particular, also demonstrated recklessness and showed total disregard for members of the public as gunmen fired bullets into the filling station forecourt and shop, narrowly missing customers and passing motorists."
The guns have now been forensically examined and detectives believe they were moved to the boiler house on Monday evening after 21:30 GMT.
One man arrested in connection with the find on Wednesday has now been released without charge.