Belfast International Airport: More security staff to be hired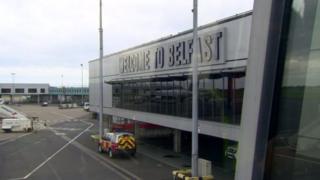 The new security firm at Belfast International Airport is to hire more staff in a bid to cut delays.
Staff shortages were blamed for long queues at the security search area.
Belfast International Airport has had to apologise a number of times this year over security delays.
Wilson James, which took over the airport's security services on 1 November, said it is recruiting 50 new security staff, with increased pay, in a bid to combat the delays.
The company said it "inherited a staffing shortage from the previous provider which has continued to impact the service delivery".
'Seamless journey'
In a statement, Wilson James added: "We are pleased to confirm that the recruitment process for 50 employees is already underway and candidates are moving through a rigorous security vetting process to ensure that aviation security standards are maintained.
"To complement our recruitment strategy, we are also pleased to confirm that last week we agreed an improved pay deal which will raise pay rates across the whole of the security contract.
"We are confident that this priority on our employees will deliver a higher calibre of service and provide passengers a more seamless journey through the airport.
"We recognise that this is the beginning of our new partnership with Belfast International Airport and look forward to working with them to improve the passenger experience."
Over the summer, Belfast International Airport urged passengers to arrive two hours before their flights due to "unprecedented numbers at the airport".