NI weekly papers: Baths and a Stockdale snap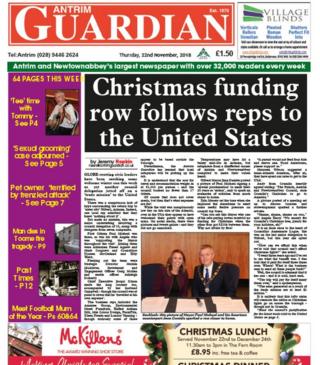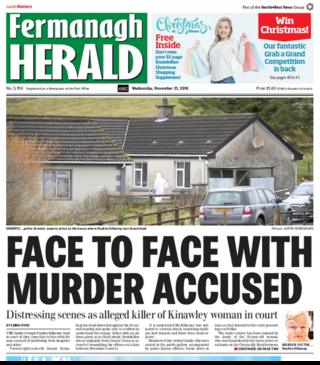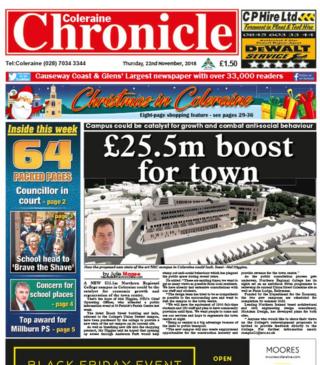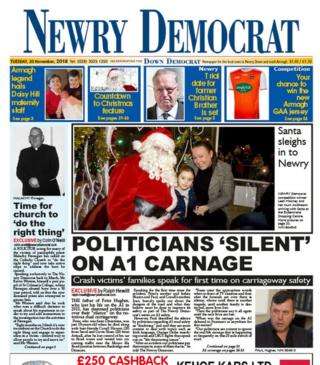 The memory of Jacob Stockdale scoring the only try in Ireland's pulsating victory over New Zealand last weekend will live long in the memories of Irish rugby fans.
As the Fermanagh Herald reports, one photographer captured what may become the most iconic image of the try.
Enniskillen snapper Tommy Dickson was perched on the walkway that wraps around Dublin's Aviva Stadium.
His picture shows winger Stockdale stretching for the line with two All Black defenders draped over him.
"I was sent up to get something different and I got lucky," Mr Dickson modestly told the Herald.
The paper says that the picture was splashed across the front page of the Irish Times and was shared all over social media.
'Travelling gangs'
"Viking crime" features in this week's Fermanagh Herald, as it reports on a spate of burglaries and thefts in rural and border areas of the county, including a break-in at a Kinawley church.
"There is a new trend in crime at the moment. There seems to be travelling gangs," said councillor Thomas O'Reilly, a member of the policing and community safety partnership.
"They just make raids like the old Vikings. They arrive in an area and they rob anything in front of them."
Calls for changes to the A1 dual carriageway receives widespread coverage in the Newry Democrat.
Paul Hughes, whose son, Peter, and two friends were killed on the road in 2015, has criticised politicians over what he says is their silence over the "notorious" road.
"Our politicians are content to ignore the real life carnage that is happening so frequently on this 20-mile stretch of road," Mr Hughes said.
Meanwhile, a petition started by Ciara Sands, whose boyfriend, Karl Heaney, died in a crash on the road in May, has gathered thousands of signatures.
The petition calls for the completion of road improvements on the A1.
The paper also reports that Newry, Mourne and Down District Council is seeking development proposals for the historic Warrenpoint Baths.
The Baths were opened in 1907 and featured a saltwater swimming pool, later converted into a boating pool.
Labrador attacked
"Globe-trotting civic leaders" makes headline news in the Antrim Guardian.
The Guardian says that Antrim and Newtownabbey Borough Council paid for 17 tickets at £1,000 a time for a trip to sister city Gilbert, Arizona.
"Of course, that does not cover meals, but that's what expenses are for," the paper adds.
In response, Mayor Paul Michael said the trade mission will more than pay for itself, predicting that it will net $1m (£780K)in investment.
A picture inside the Mid Ulster Mail shows Ballinderry toddler Charlie Ferris sitting beside some of the casts he has worn to correct a spinal curve.
Charlie, who has infantile scoliosis, has been receiving treatment in the US which is unavailable through the NHS.
His mother, Donna, says the curve in Charlie's spine is now down to six degrees after 14 trips to Shriner Hospital in Philadelphia over the last 30 months.
Since setting up a social media page about Charlie, Donna says she has been contacted by people from all over the world, including a mother from Omagh, who followed her advice and took her child to the US for treatment.
Other medical news in the paper is not so positive, as it reports that only 11.9% of patients referred for an urgent breast cancer assessment in the Northern Trust were seen within 14 days.
Councillor Trevor Wilson says the figure "is not good enough".
In County Londonderry, the Coleraine Chronicle says there are hopes that a new £25.5m Northern Regional College campus in the town could be the "catalyst for economic growth and regeneration".
Mel Higgins, the college's chief operating officer, told a public meeting it will have the equivalent of 1,300 full-time students and 180 staff.
"The new campus will also create employment opportunities for construction and provide revenue for the town centre," he said.
Meanwhile, Causeway and Glens Council is seeking funding for the £500,000 development of a walking trail at the Magheracross beauty spot between Portrush and Bushmills.
Plans were unveiled at the council's leisure and development meeting.
Dirty syringes and fake licences
A stark warning has been issued to parents after dirty syringes, suspected of being used for drug taking, were found in a Portadown estate.
According to the Portadown Times, the Edgar Residents Association told parents they should warn their children of the dangers of lifting syringes.
The discovery has also prompted an appeal for drug users to "wise up" as they are not only putting themselves at risk, but risking the safety of others too.
The Times has a story on a Craigavon Court judge who has hit out at the number of people using fake driving licences.
District Judge, Bernie Kelly, said she will "start sending people to prison" for the offence.
She made the comments during a case last Friday at Craigavon Magistrates Court.