PIP: Department 'cannot' scrap terminal illness form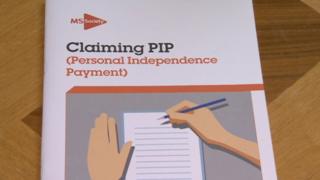 A department has said it cannot scrap a requirement that terminally ill people sign a form stating they have less than six months to live to secure benefits.
In June, a review recommended the form for Personal Independence Payments (PIP) be removed.
The Department for Communities said it cannot implement this recommendation.
More than 100,000 people in Northern Ireland are being reassessed for PIP, which replaces the Disability Living Allowance (DLA).
Earlier in November a mother-of-two told BBC News NI that being asked to sign the form was like being "asked to sign her own death warrant".
The review, carried out by Walter Rader, recommended that the clinical judgement of a medical practitioner indicating that the claimant has a terminal illness should be sufficient to secure the benefit payments.
Mr Rader, who sits on the Committee on Standards, recommended that the "six months life expectancy criterion should be removed".
The form is known as the DS 1500 and can be obtained by applicants from their doctor or consultant.
What is PIP?
PIP benefit is replacing Disability Living Allowance (DLA) as part of a wider reform of UK welfare for people aged between 16 and 64.
The payment is made to those who have a disability or long-term illness, with the amount based on how the condition impacts someone's life.
The weekly rate for the daily living part of PIP ranges from £57.30 to £85.60, while those given the mobility part can claim between £22.65 and £59.75 more.
Latest published statistics for PIP show that from July 2016 till May 2018, 65% of claims in Northern Ireland were successful.
In an interim response, the department said it cannot implement this recommendation.
It said that this provision in PIP assessments "mirrors the provision that has been in place in attendance allowance and DLA since the 1990s".
It added that: "While the department acknowledges the opinion of the reviewer, it will be for incoming ministers to determine if they wish to initiate any review of the current arrangements in place for the special rules in Northern Ireland, taking account of the position in Great Britain."
Speaking to BBC Radio Ulster on the Nolan Show, Mr Rader said he recommended scrapping the DS 1500 form because on the stories, similar to Mrs McHendry's he heard where he felt it was inappropriate to recommend signing the terminal illness form.
He added that he found it interesting that if a terminally ill individual is granted the benefits by signing a form stating they have six months to live, that the payments continue for over three years before they are reviewed again.
'I was asked to sign death warrant'
Lynette Mchendry is one of more than 100,000 people in Northern Ireland being reassessed for Personal Independence Payments (PIP).
The 40-year-old was recently asked to sign the DS 1500 form during her interview assessment.
She said this would be like "signing her death warrant", as doctors have no idea how long she could survive.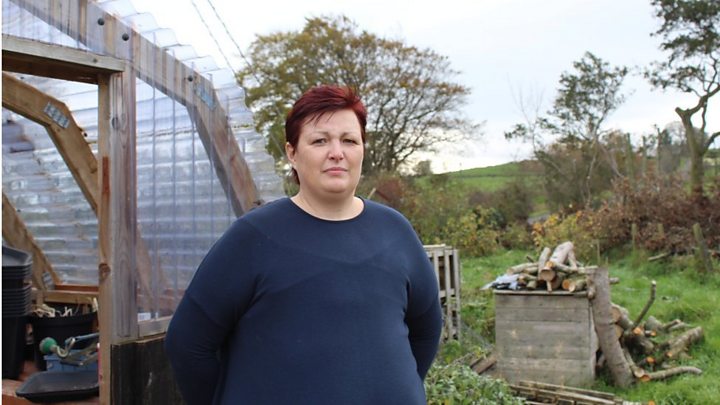 The Department for Communities, which oversees PIP payments, said that even if the DS 1500 is not provided, the applicant's case can still be considered under special rules if they meet certain criteria.
But it added that it could not comment on individual cases.
Mrs Mchendry's payments are continuing while her assessments are under way.
Terminal illness candidates
Someone with a health condition is not automatically entitled to PIP payments, except in cases of terminal illness.
"PIP arrangements recognise the particular difficulties faced by people who only have a short time to live," said a Department for Communities spokesperson.
Similar to other benefits, a person is regarded as terminally ill if they suffer from a progressive disease and death can be expected within six months.
Claimants deemed as having a terminal illness do not have to complete a standard PIP form and are guaranteed a £85.60 weekly enhanced rate of payment.
Nearly all also receive the enhanced rate of mobility, resulting in a total of £145.35 a week, the spokesperson added.
Out of the 14 recommendations in Mr Rader's review, the department accepted six, partially accepted four and rejected three.
Among the recommendations it accepts are provisions to work with support organisations, to update its terminology for roles and functions in the PIP assessment process and to review its written material.
Included in the rejected recommendations was a proposal to develop enhanced training for assessors specific to certain groups of conditions and that the department should put in place arrangements for a copy of the assessor's report to made available to claimants along with their decision letter.
SDLP deputy leader Nicola Mallon has said people will feel sorely let down that a number the recommendations have been dismissed and rejected by the department.
"While it is important to recognise the department has accepted a majority of the recommendations put forward by Mr Radar, a number of key recommendations based on interviews with claimants and their advocates have been only partially accepted or outright rejected," she said.