PSNI send file on Paisley recall petition posts to PPS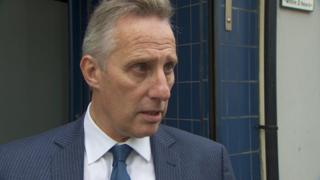 Police have completed their investigation into separate social media posts by a Sinn Féin MLA and TUV councillor during the recent recall petition in North Antrim.
Both Philip McGuigan and Timothy Gaston were questioned about alleged breaches of electoral laws after being reported by Ian Paisley.
A file has now been sent to the Public Prosecution Service (PPS).
The petition was triggered after Mr Paisley was suspended from Westminster.
He had failed to declare two holidays paid for by Sri Lanka's government and then lobbied the then prime minister on the country's behalf.
It fell short of the number required to remove the North Antrim MP from his seat.
Remove posts
His suspension as an MP for 30 sitting days ended on Tuesday.
During the six week petition period both Timothy Gaston, a TUV councillor in Mid and East Antrim, and Philip McGuigan were contacted by the Chief Electoral Officer Virginia McVea and asked to remove posts which she deemed breached electoral laws.
Mr Gaston had revealed online how he had signed the petition while Philip McGuigan posted a video urging people to sign the register which he said was "on a knife-edge".
Under the Recall of MPs Act 2015, it is prohibited to publish a statement on whether a person has signed the petition before it closes.
It is also against the rules to forecast the result of the petition based on exit polling.
Breaching the rules can be punishable by a fine or up to six months' imprisonment.
What is a recall petition?
This is a fairly recent addition to politics, becoming law under the Recall of MPs Act which came into effect in 2016.
It states that MPs who are convicted of a criminal offence and jailed, convicted of providing false information on allowance claims or barred from the House of Commons for 10 sitting days or longer can lose their seat if there is a successful petition to recall them.
It is against the regulations of the act to forecast the result.
At the time Mr McGuigan said: "I find it incredible I am being warned about police investigations when I do not believe there was anything in the post that predicted the outcome of the petition.
"If that is the case, are the bookmakers taking bets or the political pundits offering opinions also going to receive similar calls?"