Belfast woman sets sail in record-breaking rowing attempt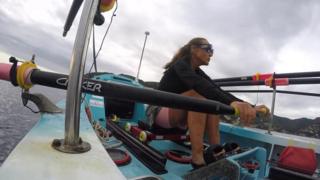 A 60-year-old woman is about to begin her bid to become the oldest woman to row solo across the Atlantic Ocean.
Shirley Thompson, from Belfast, has arrived in the Canary Islands where the voyage will begin, weather permitting, in the next few days.
If all goes according to plan, she will spend Christmas in the mid-Atlantic and arrive in the Caribbean by the end of February.
"I am going for two world records," she told BBC News NI.
"The oldest woman to row solo across an ocean, and the first Irish woman to row solo across an ocean.
"I want to prove to myself that someone ordinary can do something extraordinary and that a woman of 60 can do anything she focuses on."
3,000 mile journey
The seven-metre long boat she is using is called 'Amigo' and has been used previously in a trans-Atlantic crossing.
"The journey is around 3,000 miles, I will row for 14 hours per day," she said.
Until recently she could not swim, but she is an experienced endurance runner and extremely fit.
She has trained for all eventualities, including falling into the water.
"In terms of safety I will always be tied on to my boat, so that if I do fall in, I am attached and will not get separated," explained the Belfast woman.
She is due to leave from Gran Canaria and her destination is the island of St Barts.
A BBC documentary team, from the True North series, will be following Shirley's progress as she tries to complete the epic journey.