Newspaper review: Rory's best day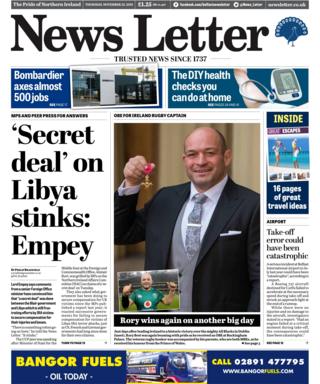 A beaming Ireland rugby captain Rory Best makes the front page of the News Letter on Thursday morning.
Mr Best, who recently led Ireland to a historic win over New Zealand in Dublin, received an OBE at Buckingham Palace.
Inside the Belfast Telegraph, the newspaper reports that the veteran hooker was joined at the palace by his parents as he received his honour from the Prince of Wales.
Another sports story that makes the front and inside pages is the departure of Republic of Ireland manager Martin O'Neill and his assistant Roy Keane.
The pair were appointed in 2013 and guided the Republic to the last 16 of the 2016 European Championship.
However, they did not win a competitive game in 2018 and were relegated from Uefa Nations League Group B4.
The Belfast Telegraph writes that "it was a two horse race with Theresa May that Martin O'Neill didn't want to win".
The front page of the Irish News splashes on the Jennifer Dornan murder trial.
Ms Dornan was stabbed before her house was set on fire August 2015.
Raymond O'Neill, 40, was extradited from the Republic of Ireland after a three-year battle.
He stood trial charged with her murder and arson endangering life on Wednesday.
The court heard that the defendant tried to use Brexit as a defence against being extradited to stand trial.
Bombardier job losses
The Belfast Telegraph leads with the news that Bombardier is to cut a further 490 jobs from its Northern Ireland operations.
It reports that the job losses could cost Northern Ireland £35 million.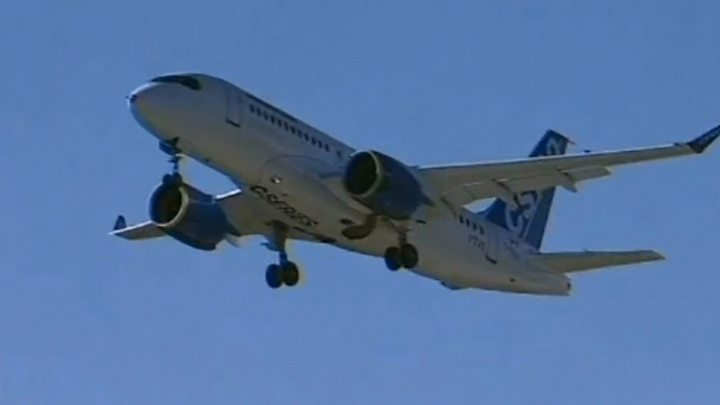 The Canadian aircraft manufacturer employs about 4,000 people across several locations in Northern Ireland.
The region's biggest high-tech manufacturer said it had to reduce its workforce after reviewing its "manpower requirements" in Belfast.
The Unite trade union said the job losses were a "bombshell, unjustified in the face of rising profits".
Take-off error
The News Letter also has a story about a serious incident at Belfast International Airport last year.
According to a report, a plane destined for Corfu failed to accelerate at the necessary speed and struck an approach light at the end of a runway.
An investigation found there were no injuries and no damage to the aircraft which continued its flight to Corfu without any further incidents. However, the report adds that this was only because of a lack of obstacles in the flight path.