Quiet Man: £12m Derry distillery project scrapped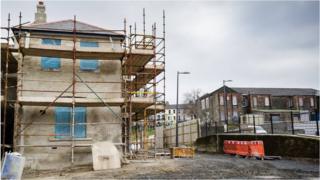 The company building a £12m whiskey distillery in Londonderry has confirmed the project will not go ahead.
Work had been under way on the Quiet Man distillery at Ebrington since 2017.
It would have created 35 jobs and was seen as a key component of the regeneration of the former military site.
The company behind the project, Niche Drinks, has confirmed it will not proceed.
In a statement to BBC Radio Foyle's Mark Patterson Show, the company said "commercial factors have brought about a change in the decision".
The Quiet Man was to be the first whiskey distillery to open in the city for nearly 200 years.
At one time, Derry was regarded as the world's whiskey capital and, by the end of the 19th Century, the city was said to be producing more whiskey than any other city in the world.
In April, US whiskey maker Luxco acquired control of the Derry firm building the distillery.