Neets numbers in NI rise to 26,000 in 2018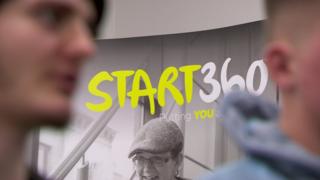 The number of people not in education, employment or training (Neet) in Northern Ireland rose to 26,000 between July and September.
There are 2,000 more Neets aged 16 to 24 compared to the same period in 2017.
The number means that 12.6% of Northern Ireland's 16 to 24-year-olds are not in work, education or training.
The number of people classed as Neet in Northern Ireland has fallen since 2015, when it was 37,000.
The figures come from the Northern Ireland Statistics and Research Agency (NISRA).
Thomas, 16, is one of the young people in Northern Ireland who is in training after leaving school in June.
He has been attending workshops with Start 360 in Belfast.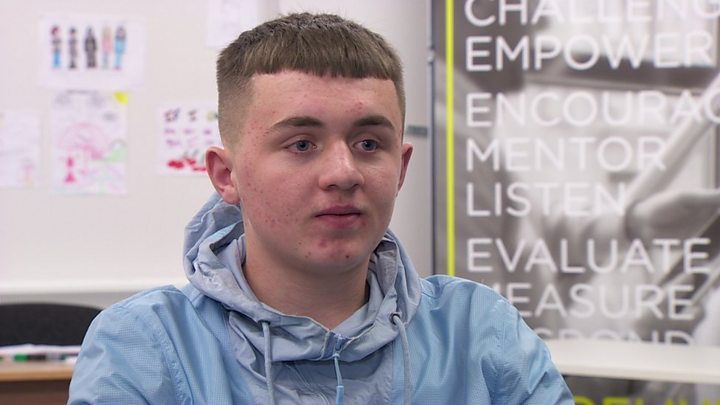 He told BBC News NI he wanted to continue studying, but was unable to because he did not get enough GCSEs.
Thomas said the classroom just did not work for him.
"My barrier was the people around me. I am better working in smaller groups like this group at Start 360," he said.
"I wasn't working as well as I wanted to in school and I realise it is more important than people may think.
"In school, I wanted to study technology and go to college and train to be a mechanic and people were letting me down and telling me I wouldn't succeed in life.
"But now, where I am, I'm hoping I am going to succeed."
The percentage of young people considered to be Neet in Northern Ireland is higher than the UK average.
Zoe Anderson, from Start 360, said she is worried about the impact on the next generation.
"We would work with people who have caring responsibilities, who may come from an offending background, they may have disabilities or barriers such as access to transport." she said.
"All of those things seem to be compounded in Northern Ireland, which means they struggle to access training programmes.
"I think there is a stigma and a lot of the young people we work with have been told they're stupid or won't amount to anything, which is a shame."
She added: "Our learning styles in schools don't fit for every young person.
"I think a lot of the time they have low aspirations, because they've been told there are no jobs out there for you, the workplace is changing."
Thomas still wants to train to be a mechanic. So what would he say to other people his age?
"Go and get an education, do what you want to do. Don't let anyone put you down, you have a whole life ahead of you and learn as much as you can, so you can do what you want," he said.
"I've had goals since I was no age and I'm still aiming for them."