Ian Stevenson: DUP councillor guilty of sexual assault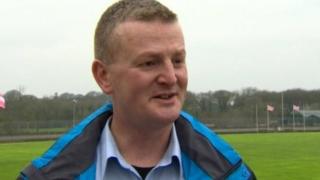 A DUP councillor has been found guilty of sexually assaulting a nursing colleague.
Ian Stevenson, of Headlands Avenue, Ballymoney, was accused of deliberately squeezing a woman's breast at a care home in County Antrim before joking he would "grope anything".
On Thursday, a district judge said she "found the injured party to be credible in her testimony".
Stevenson, 49, is due to be sentenced in December.
'Disgust'
The Causeway Coast and Glens Borough Council representative was suspended by the DUP in April pending the outcome of the case.
Belfast Magistrates' Court heard that he asked for a hug while talking to the woman in a corridor in April 2017.
She claimed that after raising her arms, Stevenson grabbed her breast.
"He actually squeezed it when he did it," the woman said in evidence.
During the trial, she said she responded by pushing him away and telling him "no".
She added that she was left feeling shocked and frightened.
"He just basically tried to laugh it off and made the joke, 'you know me, I would grope anything... well, not anything'," the woman claimed.
The court was told she later sent Stevenson a Facebook message expressing her "disgust" at what happened.
'Inconsistent and false'
The woman added that it "makes me nervous that somebody in that position could take such an advantage".
Stevenson, the former mayor of Ballymoney, denied the sexual assault charge.
It was put to the woman in court that her allegations were inconsistent and false and Stevenson's defence counsel argued that it was unbelievable that a public figure, and nurse of 22 years, would carry out the alleged act in the middle of a care home.
It emerged in court that Stevenson has since been dismissed from nursing, an action that will be challenged at a tribunal.
Stevenson claimed the woman offered to hug him when he told her he was going to lay a wreath on a friend's grave.
'Not my nature'
He said that at no point he touched her breast.
He told the court: "Anybody that knows me, anybody in the political sphere, knows that I have never cursed in my life, which might seem a bit incredible, and I certainly would not say anything like that."
He refuted the prosecutions claims that he "took a chance" by overstepping the boundaries and grabbing the woman's breast.
"It's not my nature, it's not me," he said.
On Thursday, the judge said the woman's testimony was consistent with her complaint following the alleged incident, adding that the woman's Facebook message also supported her assertion of sexual touching.
The judge said Stevenson had failed to explain why the woman would fabricate the incident after they had previously been on good terms.
Accepting he had allegedly remarked that he would "grope anything", Mrs Henderson confirmed: "He did the act deliberately and I convict."
Stevenson will return to court in December for sentencing.