NI health staff can get pay rises of more than 1%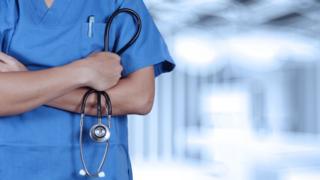 Health service staff in NI will be able to receive pay rises of more than 1% after extra money was allocated to the Department of Health.
Staff in other departments will only be able to get rises of above 1% if it can be paid for with efficiency savings.
Health has received an additional £109m as a consequence of increased funding in the recent Westminster budget.
Public sector pay was frozen for two years in 2010, except for those earning less than £21,000 a year.
Since 2013, rises have been capped at 1%.
---
Analysis: BBC News NI Health Correspondent Marie-Louise Connolly
At last, the Department of Health is in a position to make a formal pay offer to trade unions.
If agreed, workers could see the difference in their packets in the new year.
The offer is based on applying this year's English NHS pay settlement to current pay rates in Northern Ireland.
If it goes ahead would represent an estimated 3% increase, or slightly more than £60m, on the pay bill for staff on Agenda for Change terms and conditions.
The offer has been a long time coming with unions threatening a consultative ballot on industrial action.
Read more here.
---
A statement from the Department of Finance (DoF) said: "With pay policy now in place for 2018/19, this will enable departments and other public sector employers to engage with their staff groups and develop pay proposals."
'Sticking plaster'
A health union described the pay offer from the Department of Finance as "too little too late."
"We need to see the roll-out of the Agenda for Change restructuring which is already ongoing across the rest of the UK and which has been fully funded by the Treasury.," said Kevin McAdam from Unite.
"Because of the failure to review the grades of healthcare workers here, the pay gap with those doing the same jobs in England, Scotland and Wales has been even further exacerbated.
"As an example, a paramedic in Northern Ireland is paid £28,462 - a full £8,000 less than they would receive in Scotland."
Stormont stalemate
Pay policy would normally have to be agreed by the finance minister.
Recent legislation passed at Westminster allowed the DoF to make the decision in the absence of a minister.
The budget reallocation exercise also sees an additional £36m go the Department for Education to address budget pressures in schools.
The Department for Infrastructure receives £31m for roads maintenance and public transport services and a further £42m for longer term infrastructure spending.