Former NI MPs recall another PM dependent on their votes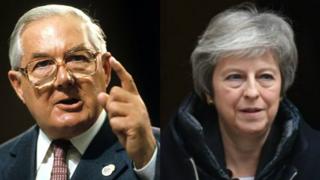 Have you heard the one about the government which almost fell because unionists would not sign up to a deal in green ink?
Neither have they - though we'll get to that - but if you think the DUP's arrangement with the Conservatives is complicated you've seen nothing.
Let's go back to 1979 and the Winter of Discontent.
Jim Callaghan's minority Labour government is hanging by a Northern Irish thread.
Relying on the votes of, among others, the SDLP leader Gerry Fitt and two Ulster Unionists, John Carson and Harold McCusker, the then Prices Secretary Roy Hattersley claims he and Jim Callaghan produced a prices policy document for Northern Ireland.
'Considerable farce'
"They signed it and I picked up a biro from my desk in the upper ministerial corridor and for some extraordinary reason the biro turned out to be green," the former Labour politician told a documentary made for the BBC Parliament Channel entitled A Parliamentary Coup.
"They didn't like me signing in green so we had to type it out all over again and sign in black. It was a day of considerable farce."
However John Carson, former MP for North Belfast and Belfast Lord Mayor with a well-earned reputation for doing it his way, describes that version of events as "nonsense, absolute nonsense."
Now a sprightly 85-year-old, who still regularly attends the gym, he lives on the Ards Peninsula.
But he well remembers those days when he helped hold the fate of a government in his hands as much as Arlene Foster and Nigel Dodds do today.
"The price we asked for was housing," he told the BBC NI's The View.
"And Harold McCusker mentioned something about a pipeline, but it was mostly housing.
"North Belfast was in a bad way for housing and Jim Callaghan would send a car down for us to the apartment and bring us up and take us in through the back door of Downing Street where all the negotiations were done regarding the vote."
But so tight was the Westminster arithmetic in those days that the votes of the two Ulster Unionists were not enough to save Jim Callaghan.
He needed the support of Gerry Fitt and the independent nationalist Frank Maguire as well.
But there were two major problems.
Unlikely friendship
Fitt did not like the then Labour Secretary of State for Northern Ireland Roy Mason and Maguire was a very infrequent attendee at Westminster.
Carson, however, had made a perhaps unlikely friendship with the Fermanagh and South Tyrone MP and attempted to persuade him to vote for Callaghan when Margaret Thatcher put down a vote of no-confidence.
"I spoke to Frank and asked him if he would come over to support the vote of confidence and Frank said 'look John, for your sake I'll come over, " said John Carson.
"Gerry Fitt had a personal hatred of Roy Mason and we were in the Whip's Office negotiating and Gerry Fitt came running into the office and said to Frank Maguire 'if you vote for the Labour Party I'll ruin you in Fermanagh and South Tyrone'."
'The rest is history'
Another former independent nationalist MP for Fermanagh and South Tyrone, Frank McManus, says it was Frank Maguire's wife who had the decisive say.
"Gerry Fitt, for the first time, decided he wasn't going to vote and he declared that in a speech and he urged Frank Maguire to do the same. Now Frank Maguire's wife, Philomena, was with him at that time and like in most marriages Philomena was ultimately the boss and she insisted that he stick to his guns and abstain, so he abstained and the rest is history."
And what history it was.
The Labour government fell, Margaret Thatcher came to power and two years later Frank Maguire died and the by-election was won by none other than hunger striker Bobby Sands.
Beat that Theresa May and Arlene Foster.
You can watch the interviews in full on The View on BBC One NI at 22:40 GMT on Thursday.