Newspaper review: 'Stormont dysfunction'
---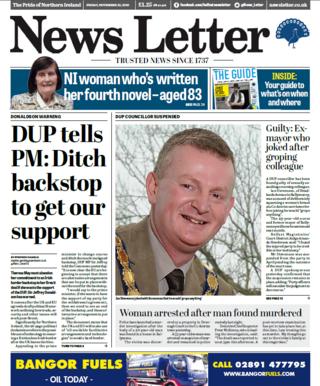 ---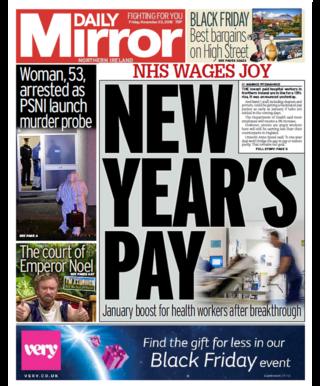 ---
The Belfast Telegraph splashes with Stormont's backlog of 164 decisions.
The newspaper reports that these key decisions are in limbo because they require the signature of a minister.
The story, which was gathered from a Freedom of Information request, is continued in a two-page spread.
Some of the decisions that are backlogged include decisions on electric bikes, remote control car parks and a turbot fish farm.
A healthy pay rise
News that health service staff in Northern Ireland will be able to receive pay rises of more than 1% makes headlines in most of Friday's papers.
The windfall is expected after extra money was allocated to the Department of Health.
The Daily Mirror reports that band one staff, including cleaners and porters, could be getting a backdated pay packet from January.
Public sector pay was frozen for two years in 2010, except for those earning less than £21,000 a year.
Since 2013, rises have been capped at 1%.
Reporting on the same story, the Irish News quotes Department of Health permanent secretary Richard Pengelly thanking health staff and trade union representatives for "their forbearance".
On the front, the Irish News leads with Northern Ireland's business leaders' warning to Theresa May that crashing out of the EU with no deal would be "catastrophic".
The prime minister had hour-long talks with them in Downing Street on Thursday.
In a statement afterwards, the prime minister said their voices were "incredibly important".
'Ditch the backstop'
The DUP has been critical of business organisations for speaking in favour of Mrs May's deal, a critique that is repeated by Sir Jeffery Donaldson on the front page of the News Letter.
Speaking in the Commons on Thursday, he appealed to the prime minister to change course and ditch the backstop.
"It is now clear the EU are beginning to accept that there are alternative arrangements that can be put in place without the need for the backstop," Sir Jeffrey said.
The News Letter also leads with the news that DUP councillor Ian Stevenson was found guilty of sexually assaulting a nursing colleague.
He was accused of deliberately squeezing a woman's breast at a care home in County Antrim before joking he would "grope anything".
On Thursday, a district judge said she "found the injured party to be credible in her testimony".