Teacher's top transfer test tips video goes viral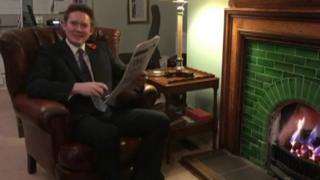 It's not the usual children's bedtime story - a Belfast teacher has rewritten the script in his attempt to reassure P7 pupils before their transfer tests.
Alex Russell, who teaches at Campbell College Junior School, wrote and recited a poem and his performance has been viewed thousands of times online.
T'was the Night Before Transfer is Mr Russell's personal take on a famous Christmas poem by Clement Clarke Moore.
He changed the words in a bid to give last-minute tips ahead of the exams.
"We try to do something to lift the mood of the boys every year, because obviously the [transfer test] can be quite a nerve-wracking and tense time," Mr Russell told BBC News NI.
"It was a lot of fun to make and the purpose behind it was to provide a light-hearted moment in what can sometimes be a rather tense few weeks for the boys".
Thousands of P7 students are in the middle of a series of transfer tests that can determine which grammar or secondary school they will go to when they leave primary education next year.
About 7,800 pupils applied to sit the GL Assessment version of the exam, which they completed on 17 November.
But more than 8,700 children who opted to do the AQE version are due to sit the second paper in the three-part test on Saturday morning.
Filmed sitting in front of an open fire in the principal's study, Mr Russell tells his pupils that "Transfer Eve" is the "most exciting evening of the year".
'Crazy'
He reminds them that the hard work is "all now done on prime numbers and square" and urges them to concentrate and do their "absolute best" in the exams.
Comparing the excitement of Christmas Eve to the night before a big exam might be a fairy story too far for some, but Mr Russell says the response from pupils, parents and the wider public to his poem has been "really positive".
"Even people who aren't connected to Campbell have been commenting on it too, it's been a real surprise."
The video, published before the first AQE test earlier this month, has now been viewed more than 16,000 times on Facebook, which Mr Russell describes as "crazy".
"It has done exactly what I intended it to do, which was it really defused quite a lot of the tension," the teacher said.
The 37-year-old father of three is originally from England but has been working at Campbell College for the past five years.
As well as teaching P7 pupils, Mr Russell is also head of literacy in the fee-paying prep school.
He spent one evening rewriting several verses of Clement Clarke Moore's poem, A Visit from St Nicholas, and was then encouraged by his principal to recite his version on camera.
'Earworms'
"The majority of the middle section was just an opportunity for me to pass on the tips, like we do at Campbell, trying to maximise the chances of the boys going into these tests," Mr Russell said.
"I always try to do what I call earworms, which are just some little things that will crawl into their brain and lodge there, so that when they're in the real test, they can remember them.
"So I was just trying fit as many of those little catchphrases into the poem as possible."
This year's transfer test season ends on 8 December.