NI Water fined £16,500 for polluting Ballygawley river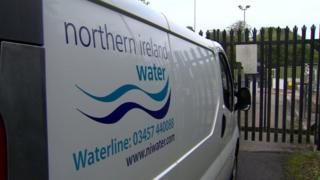 Northern Ireland Water has been fined £16,500 after the firm pleaded guilty to polluting the Ballygawley River in County Tyrone last year.
Dungannon Crown Court heard effluent was found in the river in May 2017, and days later it was polluted again after staff had been sent to fix the problem.
A contractor removed a blockage from a Combined Sewer Overflow (CSO) pipe near Ballygawley Church on 9 May 2017.
Two days later, more sewage was traced to another CSO at nearby tennis courts.
'Fungal growth'
NI Water has now changed its procedures and is checking all CSO chambers monthly.
The initial pollution was detected by water quality inspectors acting on behalf of the Northern Ireland Environment Agency (NIEA).
They reported "significant quantities of sewage-related debris" in the river and along its banks, according to a statement from the Department of Agriculture, Environment and Rural Affairs.
Inspectors also noted that the water was cloudy and there was "extensive grey fungal growth" on the river bed.
No fish kill was reported, but fish appeared to be in a distressed state in the polluted water.
NI Water dispatched workers to the area on the day the incident was reported.
The court heard the initial blockage near Ballygawley Church consisted of face wipes, rags, fats and other waste.
Inspectors revisited the site on 11 May and noted effluent was continuing to enter the river, at which point the response was upgraded to a medium-level incident.
NI Water was alerted again and an engineer conducted a check but found no issue.
It emerged the engineer checked the recently-treated Ballygawley Church CSO when the problem was at another CSO at Ballygawley Tennis Courts.
'Inappropriate items'
The firm's director of assets delivery, Paul Harper, pleaded guilty on behalf of NI Water to causing pollution of a waterway on 9, 11 and 12 May 2017.
His company's defence barrister told the court the problems had been caused by the disposal of inappropriate items into the sewage system.
"There are certain materials one simply should not be putting into the system, whether that is down the toilet or into the sewer," he said.
The court was told the firm has embarked on a public awareness campaign to help prevent future blockages.
In a statement NI Water said it took its responsibility to the environment "with the utmost seriousness" and had invested £500m in the network in the last three years.
"Unfortunately, on this occasion, we failed to maintain the highly exacting standards that we set ourselves," the statement continued.
"However, no amount of investment or work will completely stop blocked pipes if people continue to flush wipes (including those labelled as flushable), sanitary items and cotton buds down the toilet.
"We need our customers to help us in this battle by being mindful of what they flush."