Brexit: Arlene Foster to reaffirm opposition to backstop at conference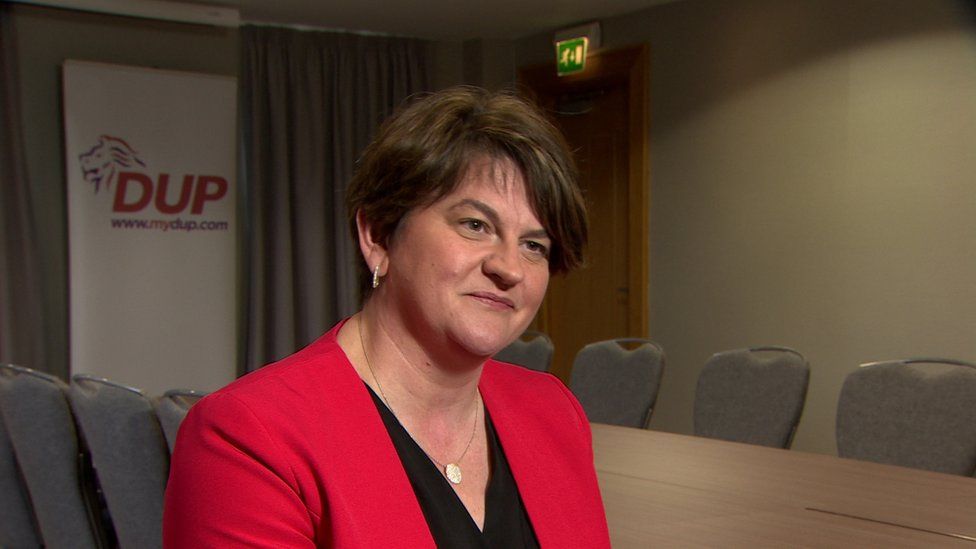 The party has said it will not back the government's Brexit deal because of the backstop, which aims to avoid a hard Irish border.
It would see only NI stay aligned to some EU rules, if it came into effect.
On Friday night, Chancellor Philip Hammond delivered a speech at the conference after a dinner event.
He is among a number of cabinet ministers who have urged support for the prime minister's plan.
But the DUP has warned that its MPs will vote down the deal in the Commons if the backstop proposal is not scrapped.
Speaking to BBC's Inside Politics on Friday, Mrs Foster defended that decision.
"Instead of wasting time promoting a deal that's not going to get support, wouldn't it be much better to use that time to get a better deal and ditch the Irish backstop, because of course it is not needed," she said.
She argued that the prospect of such a hard border has taken on a "mythical status" in the Brexit negotiations.
He was speaking during a visit to an integrated school in Moira, County Down.
Mr Hammond said the government has a number of choices through the "parliamentary process", which include extending the implementation period to avoid having to use the backstop.
"I would much prefer to see us extending the implementation period and I am sure my DUP colleagues would take the same view," he said.
The party's 10 MPs support Theresa May's minority government on key legislation in the Commons.
In exchange, the DUP negotiated an extra £1bn in spending for Northern Ireland, to be spent over two years.
The government of Gibraltar will also be represented at the conference.
Spanish Prime Minister Pedro Sanchez has said his backing for the overall deal cannot be taken for granted, although no one country can block the withdrawal agreement on its own at this stage.