Belfast family to be compensated over electricity pylon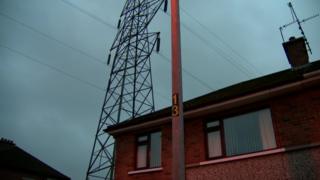 A court has ruled that a family must be compensated because of a pylon in the garden of their Belfast home.
Northern Ireland Electricity had previously refused the family's request to remove the structure.
A solicitor described it as a landmark case that opens the way for other homeowners to seek compensation.
The Court of Appeal upheld a £15,500 compensation award to Roy and Ivy McKibbin for NIE's alleged refusal to remove the tower.
It is at the side of the house in the Four Winds area that has been their home for 53 years.
Judges backed an assessment that the property had diminished in value by 10% due to the presence of what the couple described as a "monstrosity".
Mrs McKibbin said among the issues caused by the pylon were distortion to phones calls and bird droppings on the driveway and cars from birds gathering on the wires.
The McKibbins' solicitor, John Gibbons, predicted the test case verdict could open the floodgates to a huge number of similar claims.
"This case now opens the way for all similarly affected homeowners, whose use and enjoyment of their property is diminished by power lines or NIE equipment, to seek suitable compensation," he said.
"There are already many claims lodged with the Lands Tribunal that will now have to be dealt with and we anticipate many hundreds of new claimants will now come forward."
The McKibbins had requested the removal of NIE equipment after the last of their voluntary agreements ended in 2009.