Woman appears in court over man's death in Ballymena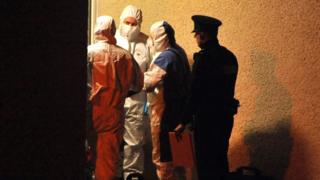 A 53-year-old woman arrested during a murder investigation has appeared in court, accused of falsely ordering prescription medication.
Angela May Jean Irwin, of no fixed abode, was arrested by police investigating the death of a 40-year-old in Ballymena.
Robin "Rab" McMaster was found dead in a house in Devenagh Court on Thursday.
At Ballymena Magistrates Court on Saturday, a police officer confirmed he could connect Ms Irwin to the charge.
He also objected to bail, saying there was no suitable address and that there was concern for her well-being.
He said that during police interviews, Ms Irwin said that she had intended to take the prescription medication herself.
District Judge McNally released Ms Irwin on bail to the care of a hospital.
He ordered her not to make contact with any witnesses involved in the murder inquiry, or with family members of the deceased.
Ms Irwin acknowledged the terms of her release and said she understood the conditions of her bail.