RHI: DUP leader Arlene Foster says party 'deeply sorry' over handling of scheme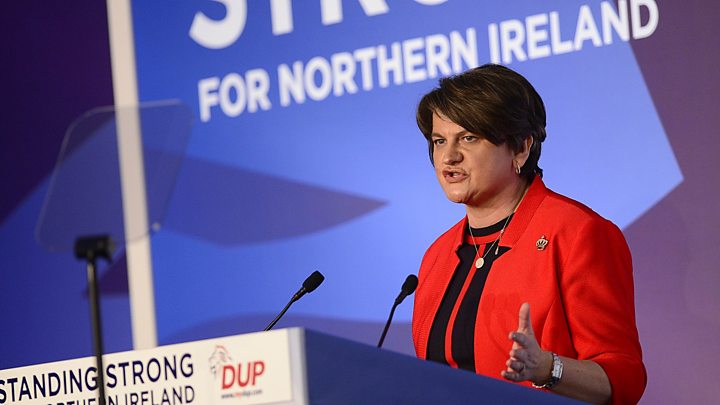 The DUP is "deeply sorry" for how it handled NI's botched green energy scheme, leader Arlene Foster has said.
She addressed the RHI scandal at her party's conference.
The Renewable Heat Incentive (RHI) scheme was set up in 2012 to encourage uptake of eco-friendly heat systems - but huge subsidies left NI taxpayers with a potential bill of £490m.
Mrs Foster was in charge of the Stormont department that set up the flawed scheme.
When the scandal became public knowledge in late 2016 after a BBC Spotlight programme, Mrs Foster faced calls to stand aside as first minister.
She refused to do so - and a row with the DUP's power-sharing partner, Sinn Féin, led to a collapse of devolution in January 2017.
A public inquiry looking at what went wrong with RHI was set up later that month.
Mrs Foster gave evidence to the public inquiry a number of times.
'Deep personal regrets'
On one occasion, she said she had "deep personal regrets" about what had happened - but did not think she bore personal responsibility for it.
On Saturday, Mrs Foster said the fallout over RHI had been a "very difficult period" for the DUP and for Northern Ireland politics as a whole.
"The public inquiry has been difficult for many individually and painful for the party collectively," she said.
"No party would want to have all of its dealings exposed for all to see at a public inquiry, especially in the unique system of government we have...but I make no excuses."
Who is Arlene Foster?
Northern Ireland's former first minister, Arlene Foster, headed up the Department of Enterprise, Trade and Investment (Deti) when the RHI scheme was designed in 2012.
Crucial controls to limit the scheme's cost were not introduced, something she has since said is her "deepest political regret".
But the DUP leader fiercely contested claims by Jonathan Bell - her party colleague and successor as enterprise minister - that she ordered him to keep the scheme open.
In the wake of his allegations, she faced calls to step aside to allow a judge-led public inquiry into the scheme.
In the end, her time as first minister was brought to an abrupt end when the late Martin McGuinness resigned as deputy first minister, forcing an election last March.
She remains DUP leader, but there has been no return to Stormont, due to the ongoing impasse between her party and Sinn Féin.
Mrs Foster told DUP members: "Today as leader of the party I apologise.
"As a party we are deeply, deeply, sorry for the mistakes we made, and for the things we got wrong during that period.
"I am determined our party will learn the lessons from RHI and how government business was conducted at Stormont more generally."
The inquiry shone a light on internal spats between senior DUP members, the hierarchical world of unelected special advisers and the power they wielded as well as how codes that set standards for public life were ignored to get business done.
Former DUP special adviser Timothy Cairns told the inquiry politics was a "grubby world".
The DUP leader told the conference there were many lessons to be learned from RHI.
She said the inquiry had showed there was a strong case for a fundamental appraisal of the Stormont civil service, and consideration of extending the Home Civil Service to NI.
"We will work hard to make amends and regain the support and trust of those who were upset by what they say unfolding over the last number of months," she said.
Mrs Foster also made reference to the ongoing impasse at Stormont.
Northern Ireland has now been without a functioning executive for almost two years.
She told members that "influence in London or power in Belfast is not a binary choice", and that the DUP wants to see a return to devolution.
"The DUP will step up its engagement with the secretary of state and with all the other parties to chart a way forward," Mrs Foster said.
"We must be conscious that there is a lack of cultural security primarily for unionists, but also for others," she said.
"We need a new cultural deal for everyone in Northern Ireland that respects difference and fosters understanding."
What is the Renewable Heat Incentive scheme?
The Renewable Heat Incentive (RHI) scheme was established by the Northern Ireland Executive to encourage uptake of eco-friendly heat systems over the use of fossil fuels.
However, an overgenerous offer of fuel subsidies meant it could cost taxpayers an extra £490m.
A public inquiry was set up into the flawed green energy scheme in January 2017.