Brexit: Donald Tusk says deal 'will avoid hard border'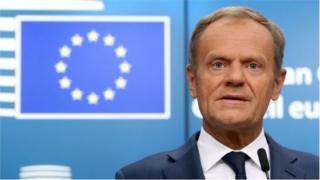 The president of the European Council says the Brexit deal will see the EU achieve its objective of avoiding a hard border in Ireland.
Donald Tusk made the remark in a letter to EU leaders ahead of a summit on Sunday.
Mr Tusk, who chairs the group of EU national leaders, said the deal means the peace process in Northern Ireland "should not be affected".
He added: "During these negotiations, no-one wanted to defeat anyone."
The prime minister flies into Brussels later to hold talks with Mr Tusk and the Commission President, Jean-Claude Juncker.
The leaders of the remaining 27 EU countries are expected to formally agree to the deal on Sunday.
On Saturday, Prime Minister Theresa May tweeted "a letter to the nation" in which she said she was in Brussels "with the firm intention of agreeing a Brexit deal with the leaders of the other 27 EU nations".
The UK is scheduled to depart the EU on 29 March 2019.
The terms of the UK's withdrawal have been under negotiation since June 2016 following a referendum in which 51.9% voted to leave the EU.
'Very unhappy'
Even if the EU approves the deal, it still has to be passed by the UK Parliament, with many MPs having stated their opposition.
The DUP is particularly opposed to the 'backstop' - an arrangement that will effectively see Northern Ireland stay in the EU's single market for goods
Mrs May relies on the DUP, whose 10 MPs help the minority Conservative government to pass legislation.
The DUP has threatened to look again at the agreement with the Conservatives if the Brexit deal gets through Parliament.