Belfast robotic surgeon 'improves cancer treatment'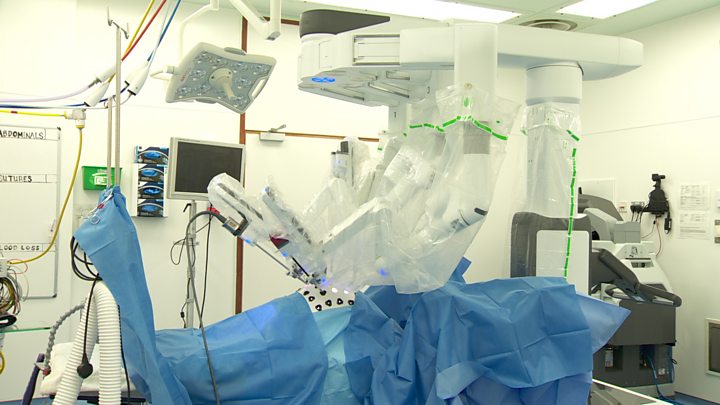 It's called Da Vinci and as the name suggests it's impressive, intelligent and about to make an impact improving the treatment of prostate cancer in Northern Ireland.
Da Vinci is not a person but a £1.5m robot that has been installed at Belfast City Hospital.
Norman Adair, a 58-year-old cancer patient, came under the robotic hands of Da Vinci two weeks ago
He had his prostate and tumour removed and was back home within two days.
'The room closed in'
When I met Mr Adair he was looking healthy, in excellent form and feeling extremely relieved.
"When they confirmed cancer, the room just closed in on me," he said.
"I'd felt pretty positive that everything would be clear but it wasn't - I had prostate cancer.
"I had been feeling well, and healthy and I had no symptoms. But my consultant was very good and explained the process.
"He said they had caught it very early and I was in a real lucky place."
The beauty of Da Vinci is that it is a less invasive form of surgery for the patient.
Smaller incisions mean less blood, less medication, hospitalisation is shorter and recovery times are much quicker.
Urology consultant Hugh O'Kane said it was a big advance in surgical technology.
"It is minimal surgery and therefore is better for the patient," he told BBC News NI. "Also, Da Vinci has wristed instruments which allows for more careful dissection, less blood and much quicker recovery time.
"Typically patients are discharged the following day or two. Beforehand the patient may have spent five days recovering in hospital."
The Belfast Health Trust plans to deliver 100 robotic prostatectomy procedures each year at Belfast City Hospital.
There are also plans to use the machine for the surgical treatment of other cancers, including kidney cancer.
Before Da Vinci arrived at the Belfast City Hospital site, men had to travel to Addenbrookes Hospital in Cambridge.
While they were discharged within three days, they had the discomfort of travelling home after surgery with a catheter in place.
There was also the additional cost of flights and hotel accommodation for someone to travel with them.
According to Mr O'Kane, less invasive surgery will also help improve erectile function as the erectile nerves are better protected.
The total spend on the Da Vinci Robot was £2,025,000. Northern Ireland charity Men Against Cancer donated £200,000 towards buying and installing the robot.
The charity's spokesperson, Eric Cairns, said: "The health service is a brilliant organisation. For those people who have the necessity to be a patient the treatment they get is second to none.
"And when you are in the company of those people who provide the treatment and that commitment, the only thing you can do is to give them a hand, to give them a bit back it is so worthwhile."
Mr Adair said having a history of prostate cancer in the family made him more alert.
"I had a brother and an uncle diagnosed 10 years earlier and I had an uncle who died of prostate cancer in the early 90s," he said.
"So it is something I am very aware of. I have been paying attention and having my PSA [Prostate-specific Antigen] levels taken from when I was 40.
"In fact I used my birthday every year to go and get it taken."
PSA is a substance made by cells in the prostate gland - it can be tested for prostate cancer but the result is not a definitive result and further tests are usually required.
"My advice is for men to be aware of their prostate, particularly if they have a blood relative who has had prostate cancer," said Mr Adair.
"Get your PSA levels taken every year and watch if they increase. This is a cheap and easy blood test.
"I urge men to talk about their health - we could take a leaf out of women's books - they aren't afraid to talk about their health and to go to the doctor."
Mr Adair also praised the medical professionals who treated him.
"The staff were just fantastic. They were supportive, they looked after me throughout, I just can't thank them enough."