John Gilligan 'committed no crime' over cash in case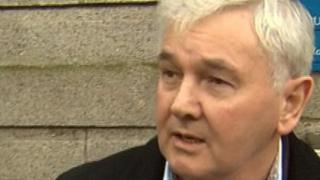 A man who was arrested at a Belfast airport with a suitcase containing almost 23,000 euros (£20,000) has told a court he "committed no crime".
John Gilligan, of Greenforth Crescent, Dublin, appeared before Coleraine court via video link from Maghaberry prison.
The 66-year-old has been at Maghaberry since his arrest on 23 August by National Crime Agency officers.
He is accused of attempting to remove criminal property from Northern Ireland.
'Interminable delays'
A prosecution lawyer told the court that a full file in the case had been allocated to a senior prosecutor who would be meeting with police on 30 November.
The prosecution was seeking a three-week adjournment, she added.
A lawyer for Mr Gilligan said there had been "very limited progress" in the case and that the delay was "beginning to become interminable".
He said his client had given a "full account" of the money and added that "the authorities in Northern Ireland and the south have made inquiries and they have all been backed up with written statements".
The defence barrister said a preliminary inquiry in the case could be held on Tuesday and indicated that his client would soon be seeking to make another bail application.
'Declared the money'
The district judge told Mr Gilligan that he had already been refused bail on four occasions, twice at the High court and twice at the Magistrates' court.
At this point, Mr Gilligan said: "I declared the money to the customs, I committed no crime whatsoever."
He added: "I never failed to turn up for bail in my life. I never did it as a young man.
"I'm an old man now, I can't be looking over my shoulder."
The judge told Mr Gilligan that a meeting between a senior prosecutor and the investigating officer would take place in four days.
He added that he would adjourn the case for three weeks until 17 December, when the court would be given an update on its progress.