Maghaberry Prison no longer 'unsafe and unstable'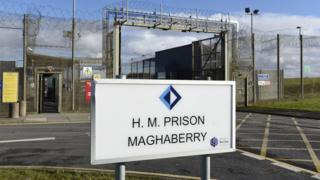 Northern Ireland's high security prison has made significant progress and is no longer unsafe and unstable, according to an inspection report.
Maghaberry Prison was described three years ago by an inspector as one of the most dangerous he had visited.
The report said the situation had been transformed as a result of "excellent leadership".
However, it also said more needed to be done to protect vulnerable prisoners and to prevent deaths in custody.
'The best we have seen'
The report was compiled jointly by Criminal Justice Inspection (CJI) NI and Her Majesty's Inspector of Prisons in England and Wales.
In 2015, the same organisations described Maghaberry as dangerous and unstable, with one inspector labelling conditions as "Dickensian".
They, now say they're "immensely" encouraged by the level of progress since then.
"We rarely see a prison make the sort of progress evident at Maghaberry, and it is to the credit of all those involved that many of the outcomes for the men held at the prison are now among the best we have seen in this type of prison in recent years," said their report.
Inspectors measured Maghaberry's performance using the Healthy Prison Test, which is based on four internationally recognised criteria: safety, respect, purposeful activity and rehabilitation.
There have been improvements in all four.
The area of rehabilitation was assessed as "good", the highest possible ranking.
But the areas of safety and purposeful activity, while better than in 2015, are still rated as "not sufficiently good".
'Motivated, enthusiastic staff'
The area of respect, labelled "poor" in the report three years ago, is now rated "reasonably good".
"The prison had settled considerably and, in terms of its operation and outcomes for prisoners, it was in a different place compared to 2015," said CJI chief inspector Brendan McGuigan.
"Staff and prisoner relationships had transformed and inspectors found motivated, enthusiastic prison staff who were doing excellent work with the men in their care.
"This is down to the leadership and the staff within Maghaberry Prison and all of the support services that are in there, they've really all stepped up to the mark here."
The inspectors said that efforts to reduce the availability and use of illegal drugs were bearing fruit, and that this had helped create a more stable environment.
"The overall picture of safety had progressed hugely and Maghaberry felt much safer at the time of this inspection," said Peter Clarke, Her Majesty's Inspector of Prisons in England and Wales.
"Levels of violence and disorder had reduced and were now lower than would usually be seen in similar prisons in England and Wales."
However, the inspectors said they were concerned that work to support the most vulnerable prisoners had not been developed to the same level as other aspects of safety.
'Step up to the mark'
Many of those held in Maghaberry have serious mental health problems.
Since the highly critical report in 2015 there have been seven suicides in the prison while three other prisoners died of natural causes.
"Much more needs to be done in relation to vulnerable prisoners. I don't underestimate the scale of that challenge," said Mr McGuigan.
"Sometimes I say to myself, is it right that we are expecting prison staff to deliver this sort of therapeutic care?
"But the reality of it is that's where they are, and for as long as they are going to continue to be sent to Maghaberry, the staff need to really step up to the mark to do everything that they possibly can to reduce the levels of self harm and attempted suicides."
Ronnie Armour, the director general of the Northern Ireland Prison Service, welcomed the overall findings.
"This is by far the most positive report ever published about Maghaberry," he said.
"We have come a long way in three years.
"From a facility which was described in 2015 as 'unsafe, unstable and disrespectful', criminal justice inspectors are now reporting progress rarely seen and say outcomes for prisoners are now among the best."
He acknowledged that improvements are needed in the care of vulnerable prisoners.
"Very often the last mile is the hardest mile to go, and we recognise the challenge there is," he said.
"But I hope the community will see through the progress that has been made at Maghaberry that we are determined to continue on and do the best we can for those vulnerable prisoners.
"Nobody should be under any illusion, that will be very challenging and very difficult but are committed to doing the best we can."