NI hospital emergency care review begins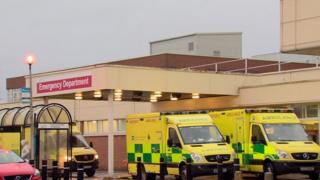 The Department of Health has announced a review of urgent and emergency care in hospitals in Northern Ireland.
Emergency departments have been under increasing pressure in recent years, with more patients facing longer waits to be admitted.
The review aims to produce a new regional care model - particularly focusing on the needs of older people.
Research shows that between 2016 and 2026, NI's population is projected to grow by a further 77,600.
Of this increase, the rise in the population aged 65 and over is estimated to be 74,500.
It is anticipated that, as in previous years, this winter will be difficult for hospitals in Northern Ireland and across the UK.
"The pressures faced by our emergency departments reflect pressures right across the health and social care system - with the rising demand for services outstripping our capacity to provide it", said the Department of Health's Permanent Secretary Richard Pengelly.
"Patients are experiencing unacceptable waits and staff are being increasingly stretched.
"We need to fundamentally change the way we do things. That's why we have announced this review, which will be clinically led."
Preparations for this year's winter pressures include:
providing alternatives hospital admissions in appropriate settings;
ensuring patients can leave hospital quickly when they are clinically fit;
improving ambulance turnaround times at emergency departments.