Derek Brockwell: 'Career criminal' wins sentence severity appeal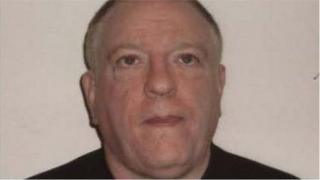 A "career criminal" has won an appeal against the length of a prison term imposed for robbery offences committed in Belfast while on the run.
The Court of Appeal ruled that the minimum period Derek Brockwell, 57, must serve as part of his indeterminate sentence should be reduced from eight to five years.
Brockwell was Tasered by police in the beer garden of a Belfast pub in 2015.
After being arrested, he stabbed himself in the stomach.
Brockwell, originally from Glasgow, is still serving 22 life sentences imposed for previous armed robbery and firearm offences in England.
On Monday, judges ruled after being told a two-and-a-half-year spell he spent on remand in Northern Ireland does not count towards the tariff before being considered for parole.
At the time of his arrest in Belfast, Brockwell was on the run from Portlaoise Prison in the Republic of Ireland.
He made his way across the border after escaping from custody while being taken to hospital for diabetes treatment.
Arriving in Belfast, he bought a knife and tried to rob staff at a shop on Howard Street before targeting a pharmacy on the Dublin Road.
A member of staff threatened at knifepoint handed over £65 from the till.
Brockwell, who is currently being held at Frankland Prison in Durham, was convicted of robbery, attempted robbery and possessing a knife with intent to commit a robbery.
His lawyers appealed the sentence imposed in September 2017, arguing that it was "draconian".
They claimed that its indeterminate nature was the equivalent of handing him a 20-year term before he can be considered for release.
During the hearing, his lawyer said: "The time he spent (on remand) in custody in Northern Ireland does not count at all - over two and a half years."
Ruling on the challenge, the judge held that it had been appropriate to impose an indeterminate sentence for the robbery offences.
He cited Brockwell's history as a "career criminal", adding: "The offender has not responded to any previous punishment, but rather escaped from custody in England and the Republic of Ireland."
However, the judge said there should have been some reduction on the minimum period behind bars to reflect the time already served on remand.
"The end result, having taken this factor into account, is a tariff period of five years," he said.
Earlier this year, the police ombudsman said that police had "no other option" but to use a stun gun on Brockwell.