Maghaberry Prison's new £52m high security wing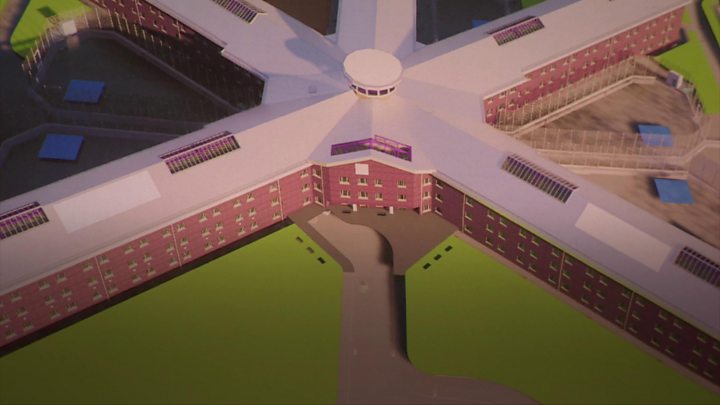 It's a case of back to the future for the Northern Ireland prison service.
This new £52m wing being built at the high security Maghaberry Prison is the same shape and size as Belfast's Victorian Crumlin Road gaol.
But the similarities end there. As you would expect, the standard of accommodation and facilities are in a different league.
BBC News NI was given exclusive access to the building, which is still under construction.
It's expected to open before the end of next year.
Like Crumlin Road, the huge new wing is in the shape of the letter X.
This provides good sight lines for staff and will reduce the number of prison officers needed.
It consists of 360 cells on three floors.
Every cell will have a toilet and shower, and there will be a 12 bed "safer cell unit" equipped for vulnerable prisoners.
Each landing will have a small gym and recreation area.
There will also be a healthcare unit with consultation rooms, fully equipped medical rooms and a dental surgery.
It is the largest capital project undertaken by the Northern Ireland Prison Service in more than 40 years.
David Kennedy, the governor of Maghaberry, says it will enable the prison to mothball four "square house" style blocks of cells opened in 1986.
Inspectors have described those cell blocks as claustrophobic and over-crowded.
"This will be an absolute game changer," David Kennedy says.
"It will transform the way our staff work and improve the service we can provide."
The wing will be called Davis House and is named after former prison governor Stephen Davis, who died last year.
Ronnie Armour, director general of the prison service, says it's a hugely significant development.
"This building will improve the good outcomes that are already in place at Maghaberry," he says.
"It will allow us to further build on those and it will allow us to work much more closely in a much more therapeutic and better environment for the men who are sent here."