Catching a paedophile: The PSNI team tracking sex offenders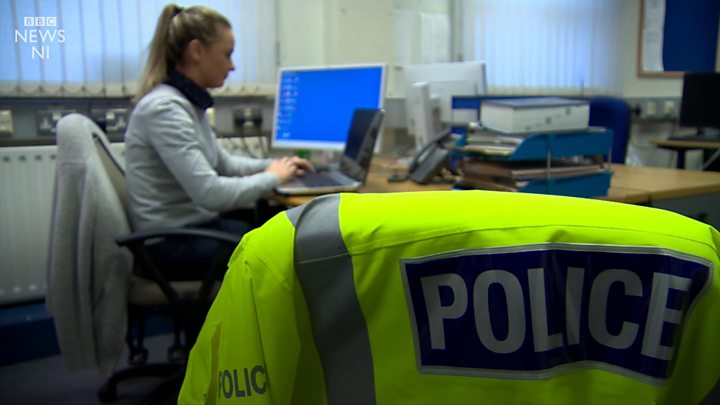 Early morning in Mahon Road PSNI station in Portadown and Det Sgt Laura McPhillips briefs officers ahead of a planned search in County Down.
She is usually based at the Antrim Road station in Belfast but the nature of her work takes her all around Northern Ireland.
In the past year her Child Internet Protection Team (CIPT) has been involved in 120 searches.
The team has made 72 arrests for offences, including possession, making and distributing indecent images and sexual communication with a child.
Necessary but unpleasant
Today's target is arrested and charged with both of these offences.
It is necessary, if incredibly unpleasant work.
Officers must not only arrest those responsible, some must also view the material to verify its content.
The PSNI say support is available to them to maintain their wellbeing.
Self-appointed hunters
In the past year a number of groups have emerged, members of the public keen to take on this work themselves.
The police have not been impressed with the self-appointed paedophile hunters.
"We are specifically trained and I would leave it to the police officers to ensure that it runs through a smooth process throughout the court system," said Det Sgt McPhillips.
"We are trained to gather evidence to a high quality and we work with partner agencies to ensure that children are safeguarded on a day to day basis.
"That has to be at the forefront of all of our investigations."
Growing problem
As part of an initiative to highlight the scale of the online abuse problem and the efforts the PSNI are making to deal with it, the unit's doors have been swung open.
Among the most striking visuals is the team's evidence room.
This is just one of a number of such rooms filled from top to bottom with seized computers, smartphones, USB keys and disks.
All filled with abusive images.
'Under-reported'
Det Ch Supt Paula Hilman is head of the PSNI's Public Protection Branch which stands over the CIPT.
She says online sexual abuse is a growing problem.
"Public protection and cyber-crime are two areas of growth in PSNI and we are putting additional resources to that," she said.
"We still recognise that it is under-reported.
"We are seeing increased reporting of child abuse cases and of offences happening online.
"Last year we received 6,000 referrals. Those offences range from the neglect of children to the sexual and physical abuse of children both recent and historic."
During two weeks in November the CIPT conducted 17 searches - leading to 12 arrests. Those arrested were aged between 19 and 74.
The searches were conducted in five counties.
More are planned.