Fewer schools 'fully co-operating' with inspections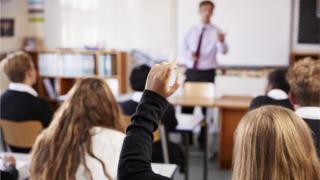 Fewer than four in 10 schools have co-operated fully with inspections over the past two years.
That is according to the Education and Training Inspectorate (ETI) chief inspector's report, which has just been published.
The chief inspector, Noelle Buick, called the disruption, due to ongoing teaching union action, "unacceptable".
Her biennial report covers the period 2016 to 2018 and 706 schools were inspected.
Ms Buick said that of 706 schools inspected in that period, 39% had fully co-operated with inspectors.
Thirty-one percent had partially co-operated, while 30% offered no co-operation.
"Parents deserve to know if their children are getting a good education and have a right to be reassured about the quality of education in their local schools," Ms Buick said.
"It is unacceptable for this disruption to continue unresolved.
"We are all entrusted with the care and education of our children and young people and have a responsibility to put them first above all else."
Pay dispute
Four of the five teaching unions have been refusing to take part in school inspections since early 2017 in a dispute over pay and workload.
The ETI report said that primary school inspections had been particularly affected by the action.
While Ms Buick said that there were many positives in education which should be celebrated, she also highlighted a number of challenges facing schools and other education providers.
"The past two years have been a period of unprecedented challenge for our education and training system," she said.
"In the absence of political leadership for a significant part of that time, schools and providers are working in a climate of severe financial challenges."
Obesity concerns
Ms Buick also used her report to specify a number of other concerns.
She said that one-fifth of children entering primary school were overweight or obese.
This rose to one in four pupils entering post-primary schools.
Ms Buick called for a long-term and strategic commitment from Stormont departments to tackle childhood obesity.
Wide-ranging issues
Her report also said that some children were already struggling with mental health problems in the first year of primary school.
"The number of pupils who require support increases steadily with age," she said.
"Significantly, schools and Education Other Than at School (EOTAS) centres highlight an increasing number suffering from anxiety as a result of attachment disorders, school work, friendships and family relationships.
"A recurring theme in identifying mental health challenges is the increasing use of social media and online gaming by pupils, resulting in social isolation."
Suspension and Expulsion
Her wide-ranging report said that the majority of pre-school children were getting a good education, and maths performance in primary schools was especially noteworthy.
However, while performance in GCSEs and A-Levels in post-primary schools had improved, she said the gap between the exam results of pupils entitled to free school meals and other pupils was still far too wide.
She also said that too many pupils were missing school through suspension or expulsion - with more than 4,000 pupils aged four to 16 suspended in 2016/17 alone.
The ETI report also covers work-based learning, youth groups and education in prisons.