NI Newspaper review: PM visit to Belfast and 'bribe jibe' denials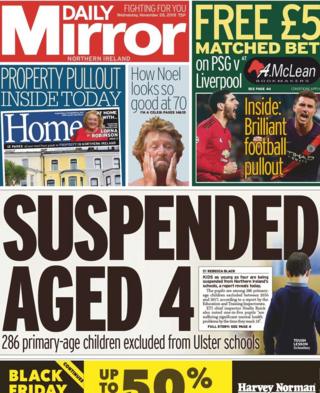 Predictably, the Prime Minister's visit to Belfast dominates Northern Ireland's news coverage on Wednesday morning.
"War of words" is the headline in the Belfast Telegraph, which reports that party leaders clashed over Theresa May's bid to win support for the Withdrawal Agreement in an appearance at Queen's University.
"PM should focus her energy on winning support of MPs," says Jon Tonge, while Ivan Little reflects on the DUP leader's reaction to Channel 4 correspondent Michael Crick's "bribe jibe".
Addressing the media at Stormont, Arlene Foster insisted that she has not and will not be "bought" by the Conservatives.
Meanwhile, the News Letter reports on Theresa May's defence of the controversial Irish back stop as a temporary measure before an EU trade deal can be agreed.
"Mrs May's answers will not satisfy critics who say that the backstop could in effect be permanent, because the EU has to approve its removal. Those critics include the DUP," it says.
The paper also carries Mrs Foster's dismissal of the claim that her party could be "bought with a bribe of further major investment pledges for Northern Ireland".
"We didn't take a bribe in the first place," she said, describing any such suggestion as "offensive".
Elsewhere, Belfast Telegraph carries the story of a Belfast man accused of trying to murder his elderly father in a care home.
James Anderson Weir, 66, is accused of attempting to kill James Weir Snr at Blair House Care Home in Newtownards on Saturday. He has been remanded in custody.
Tragic driver
The Irish News leads with the headline: "Taxi driver dies after being struck by own car".
The paper reports that Brian Braiden, from the Peter's Hill area of Belfast, died on Monday afternoon following an accident on the Antrim Road.
It says the 50-year-old grandfather, who had been a taxi driver with Value Cabs for 20 years, was struck by his own car after getting out to close a customer's gates.
His sister-in-law Margaret Kell is quoted as saying Mr Braiden was "a gentleman" who "idolised his children and [wife] Carol".
She added: "They had just started a WhatsApp group message and every morning he wrote 'Good Morning my beautiful family'."
The Irish News also reports on claims by two well-known west Belfast traders that they have been forced out of business because of the new Glider bus service.
Auto Spares and Domestic Services, both on the Falls Road, have suggested business fell dramatically when 12-hour bus lanes were introduced three months ago.
Finally, the Daily Mirror's headline on the exclusion of children from Northern Ireland schools reads: "Suspended aged 4".
An Education and Training Inspectorate (ETI) report, published on Wednesday, reveals that P1 pupils were among 286 children suspended from primary schools in 2016 and 2017.
The rising figures showed around three times more boys than girls were suspended.
The report also reveals increasing challenges in nursery units.
Commenting on the report, ETI chief inspector Noelle Buick tells the paper one-in-five pupils are "suffering significant mental health problems by the time they reach 18".