Royal Mail sorting office powder 'not hazardous'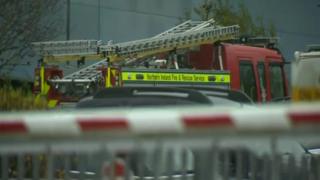 White powder found in a package at Northern Ireland's main Royal Mail sorting office was not hazardous, police say.
Police officers and other emergency services attended the scene at Enterprise Way in Newtownabbey, County Antrim, on Wednesday morning.
Royal Mail said the white powder was found in a package at the National Returns Centre (NRC) in Mallusk.
The area where the powder was found had been cordoned off, it added.
There was no impact on the operation of the centre or the processing of mail.
The PSNI said the powder was checked by Northern Ireland Fire and Rescue Service and found to be a "non-hazardous substance".