Belfast man who bit off cousin's earlobe jailed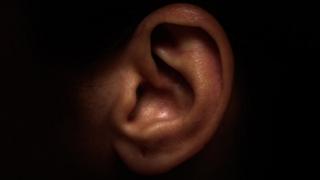 A Belfast man with 124 criminal convictions has been jailed for biting off part of his cousin's earlobe.
Joseph James Smyth, 30, admitting causing grievous bodily harm in the attack in August 2017.
A defence barrister said Smyth had experienced "traumatic and horrific" incidents during his life.
Belfast Crown Court heard that his sister Saoirse Smyth was missing and her disappearance last year was the subject of a murder investigation.
Smyth, from Pilot Street, will spend six months in prison followed by a two-year period on licence.
The judge said the attack resulted in a "very nasty partial amputation" of the victim's earlobe.
He said he took Smyth's "very difficult upbringing" into account and acknowledged that the defendant had taken steps to tackle his drug addiction.
'Earlobe in driveway'
The attack happened at Smyth's second cousin's home in west Belfast.
The court heard he was banging on the door, claiming he was owed money.
He attacked his cousin, poking him in the eye and punching him before holding him in a headlock and biting off part of his left earlobe.
Some of the people in the house witnessed the incident, the emergency services were called and Smyth left the scene.
The court heard paramedics found the body part on the driveway but it could not be reattached in hospital.
Smyth was arrested about an hour after the attack and during a police interview, he denied that he had been involved.
He was due to stand trial on a more serious charge this year but he subsequently pleaded guilty to grievous bodily harm.
The prosecutor told the court the victim had been left with a "significant disfigurement".
'Following leads'
Smyth's guilty plea reflected his "remorse and an awareness of the harm he caused", his defence barrister said.
He said Smyth had turned to drugs after an unsettled upbringing, which included the death of his mother when he was an infant.
He also spoke about the disappearance of Smyth's sister and the death of another sister.
Smyth had breached bail on occasions when he was "assisting in the search" for his missing sister and "following up leads", his barrister added.
Her disappearance prompted a cross-border search and a murder investigation, which is focused in Omeath in County Louth..