Brexit: NI 'among worst hit' under no deal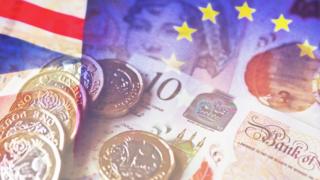 Northern Ireland is among the UK regions that could be worst hit by a no-deal Brexit, according to new figures.
The government has produced analysis on the economic impact of leaving the EU.
Modelling different outcomes, it says Northern Ireland would be better off exiting under Theresa May's Brexit plan.
In that scenario, its economy could be 7% bigger in 15 years' time than leaving without any deal.
Of the 12 regions of the UK, only north-east England and the West Midlands would be damaged more by the UK crashing out of the EU with no agreement.
The 83-page analysis states that overall the UK would be poorer economically under any form of Brexit.
It is not the first time government forecasting has suggested Northern Ireland would be badly affected.
The assessments do not mean the economy would shrink in absolute terms.
Instead, they look at how the economy would perform under each scenario compared to current forecasts.
The UK is leaving the EU on 29 March next year and while there is a Brexit deal on the table, it faces strong opposition and is unlikely to win Parliament's backing when it comes before the Commons on 11 December.