Councillor Brian Duffin loses appeal against conviction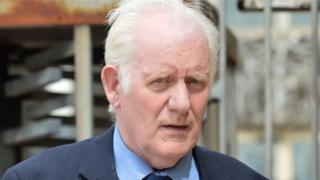 A councillor has lost his appeal against his conviction for sexually assaulting a teenage girl.
Brian Duffin, 74, an independent councillor on Antrim and Newtownabbey Borough Council, was sentenced to four months in jail in August.
He appealed against the conviction and sentence for the 2016 sexual assault.
Affirming his conviction, a judge said she was "satisfied beyond reasonable doubt" the complainant was "truthful, accurate and reliable".
His sentence appeal was adjourned until February to allow for new pre-sentence reports to be carried out.
The judge at Coleraine County Court said she had taken "into consideration the exemplary way the appellant had lived his life to date and the impact it has had on his credibility".
The court was told that Duffin, from Cargin Road in Toome, "stuck his tongue" into the mouth of the then 17-year-old, had one hand on her breast and the other on her inner thigh during the assault in June 2016.
The former SDLP representative has been on bail pending the outcome of the appeal of both his sentence and conviction.
'Just froze'
During the appeal hearing, a police interview with the complainant from August 2016 was played to the court.
The then 17 year old told a police officer: "So I went to give him a kiss on the cheek and he grabbed my head and put it towards his.
"He was coming forward and I couldn't get my head back... then he stuck his tongue down my throat. I just froze, I panicked."
The complainant said she first became uncomfortable when Duffin began to console her about her ill grandfather by rubbing his arm up and down her shoulder while giving her a hug.
Estimating the attack lasted about 10 seconds, the girl said that Duffin then took his wallet out and placed £40 on the table before walking out.
'Bit mopey'
At the appeal hearing, Duffin repeatedly denied sexually assaulting the teenager while under questioning from his defence lawyer and during cross examination.
The 74 year old accepted that he had sat down on the sofa beside the girl, who he said was possibly a "bit mopey" in relation to her ill grandfather.
He also accepted that he gave her a hug and a kiss on the lips, which lasted a few seconds.
He was asked repeatedly if he had grabbed her right breast, put his hand on her inner thigh or had forced his tongue into her mouth to which he replied "absolutely not".
During cross examination, a prosecution lawyer put it to Duffin that everything the complainant alleged was true, to which he replied: "That is incorrect."
He was asked whether the teenager was lying when she gave her account to police and to the court.
Duffin responded: "All I can say is she wasn't telling the truth."