Thursday headlines: Rubbish rage and health concerns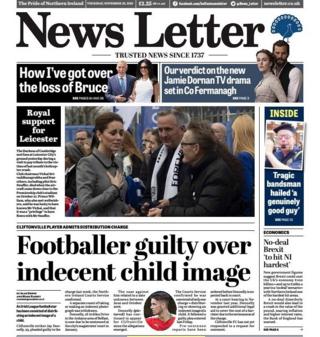 The Daily Mirror leads on Thursday morning with a good old rubbish headline: "Bin plan kicked to the kerb," it reads.
The paper claims "a battle of the bins is raging as householders fight a council's rubbish proposals".
It says Belfast City Council's plans to cut bin capacity and the number of collections in a £14m bid to improve recycling has provoked a "furious" reaction from householders.
The paper reports that hundreds have signed a petition entitled 'Stop Wasting Our Time'.
"City Council chiefs plan to get rid of 360,000 wheelie bins and replace them with a stacking system of boxes with less capacity, and they aim to make collections monthly instead of fortnightly."
A spokesperson for 'TalkingRubbishNI', which organised the petition, is quoted as saying: "We believe the new measures will not revive recycling figures. Encourage investment in waste education, not expensive sort-it-yourself schemes."
Indecent photos
The Newsletter leads with the news that an Irish League football star has been convicted of distributing an indecent image of a child.
Cliftonville striker Jay Donnelly, 23, pleaded guilty to the charge last week, the Northern Ireland Courts Service confirmed.
A separate count of taking or making an indecent photograph was withdrawn.
Donnelly, of Ardilea Drive in the Ardoyne area of Belfast, is due to be sentenced in January.
The paper also carries the headline "No deal Brexit 'to hit NI hardest'".
It cites new government figures that suggest Brexit could cost the UK economy £100bn and up to £26bn a year and that Northern Ireland would suffer more economically than any other region.
Meanwhile, the Belfast Telegraph leads with quotes from the chief medical officer, who says Northern Ireland health costs "could bankrupt Stormont".
Dr Michael McBride told MPs on Wednesday that the health service "has the potential to bankrupt all other government departments and all other public services because of the changing demographics, ageing population, rising public expectations".
He also told the Northern Ireland Affairs Committee in London that the Stormont impasse is preventing long-term health strategies from being implemented.
Elsewhere, the paper carries the heartbreaking story of a fatal accident at a motocross track in County Londonderry.
It reports that the accident "could have been prevented if marshals had been present on the day that 13-year-old Daniel Sheridan was struck by a bike ridden by his brother", according to a coroner.
"The Dublin teenager died at Altnagelvin Hospital after he suffered a fatal brain injury when he was struck by his brother Jake's bike at the Magilligan Motocross track," it reads.
Coroner Patrick McGurgan found that if a marshal had been present at a jump on the track, the approach to which was blind, Jake Sheridan "could have been alerted to the presence of his brother at a bunker at the bottom of the jump".
Crash
Finally, the Irish News front page carries the headline "Man held over fatal crash was wanted by gardaí".
It reports that a south Armagh man arrested following a crash in County Monaghan, which killed a delivery driver and left a Garda officer injured, was wanted for questioning by police in the Republic of Ireland.
Married father-of-two Stephen Marron, 47, was killed after his parked car was struck as he waited outside a takeaway.