NI hospital waiting list times increase again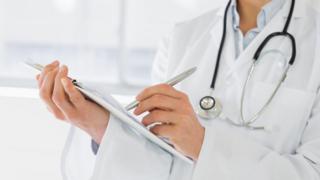 Hospital waiting lists have risen by almost 3% in just three months.
The latest official figures show that 283,497 patients were waiting for a first consultant-led outpatient appointment.
The dismal figures show NI's Health and Social Care service is still struggling to cope with hospital waiting lists.
The increase comes despite an injection of £30m of the £100m targeting health from the DUP's confidence-and-supply agreement with the Conservatives.
More than three quarters of men and women were waiting more than nine weeks to see a consultant, according to the latest figures.
This exceeds the ministerial target that 50% of patients should wait no longer than nine weeks - and that no one should wait longer than a year.
Waiting times for inpatient and day care admissions have also increased - jumping by more than 14% in just a year.
Patients are still having lengthy waits to receive a diagnosis, with 122,387 waiting to hear news of when they can avail of a diagnostic service.
What's going wrong?
A combination of issues, including an ageing population and an increased demand for services, has piled pressure on the system.
Poor workforce planning and reduced funding means there is little flexibility in the system, particularly to cope with the approaching winter pressures.
While additional investment would allow waiting lists to be reduced in the short to medium term, according to the Department of Health the only long-term answer is to continue to transform how services are delivered across Northern Ireland.
But most new initiatives require funding and time.
Sadly, for most people, the latter is a luxury they don't have.